The Last PPC campaign I analysed in the 'Analyse A Real PPC Campaign' series was from Sound in the City, which was a prime example of a PPC campaign that had poorly targeted keywords – the web user wanted to rent a movie whereas Sound in the City was looking to offer TVs, projectors and more.
Already, we have looked at the likes of Ralph Lauren when it comes to PPC. So, with Ralph Lauren having a few key competitors, here is an analysis of a PPC campaign from Tommy Hilfiger.
To view Tommy Hilfiger's PPC search advert, I had to type into Google search UK, 'tommy':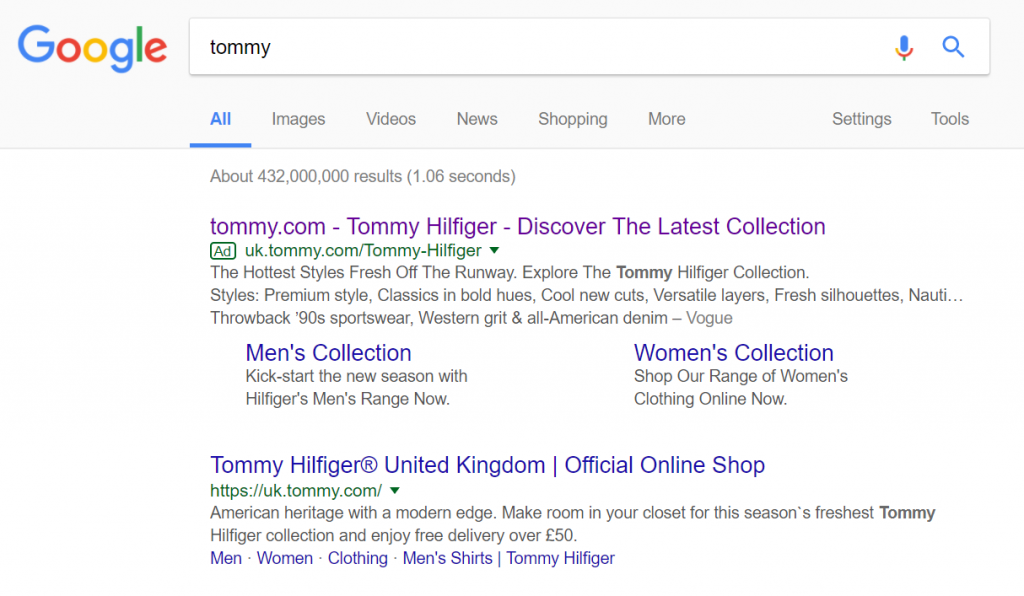 Straight away, it is interesting there is even a search advert appearing for this, since Tommy Hilfiger rank number one for this keyword search phrase.
However, it is quite normal for companies to have PPC adverts for their own brand name. This is typically because:
The company want to send the web user to a different page other than the homepage, which is what the top organic result points to. For Tommy Hilfiger, this is not the case.
To promote something new about the company, such as a new clothing collection or a special offer. For Tommy Hilfiger, this does not neither seem to be the case.
To use ad extensions in the PPC search advert to make the user experience with Tommy Hilfiger better.
Point 3 seems to be the reason for making this search advert, since Tommy Hilfiger have gone for the expanded site links extension to 'cut out the middle man', being a click, to get to the page the web user is likely to want to visit first. This is because the web user does not have to even visit the homepage of Tommy Hilfiger to get the clothing for their gender.
After clicking on the above advert, I came to the following landing page:
This is a huge disappointment considering Tommy Hilfiger is a brand all about presentation. Firstly, it is important to rule out the possible reasons for page loading like this:
My web browser's cache/cookies – sometimes, corrupt cache and cookies can cause web pages to load wrong. However, after testing with cleared web data and different browsers, it does not appear to be the case.
Poor internet, for which is not the case.
An internal problem with Tommy Hilfiger's web page, which it appears to be.
Whatever the reason, it is extremely disappointing that this has happened, since it:
Makes the effort and cost to run of the PPC search advert wasted.
Damages the Tommy Hilfiger brand.
Will encourage web users to go to an alternative brand, or an alternative site which also sells Tommy Hilfiger clothing. If this happens, the profit margin on the goods will be less than if Tommy Hilfiger sold them direct from their site.