The last PPC campaign I analysed in the 'Analyse A Real PPC Campaign' series was from Blueair, who had a typical search advert, in terms of the content and structure of it, and a landing page that had areas of improvement from being a bit too bland and minimalist.
In terms of the film industry, all of the current talk is about the new horror film 'IT', which has currently got high ratings from critics and has hit the box office well. Continuing the theme of films, here is an analysis of a PPC campaign from Sound in the City.
To view Sound in the City's PPC search advert, I had to type into Google search UK, 'rent a film':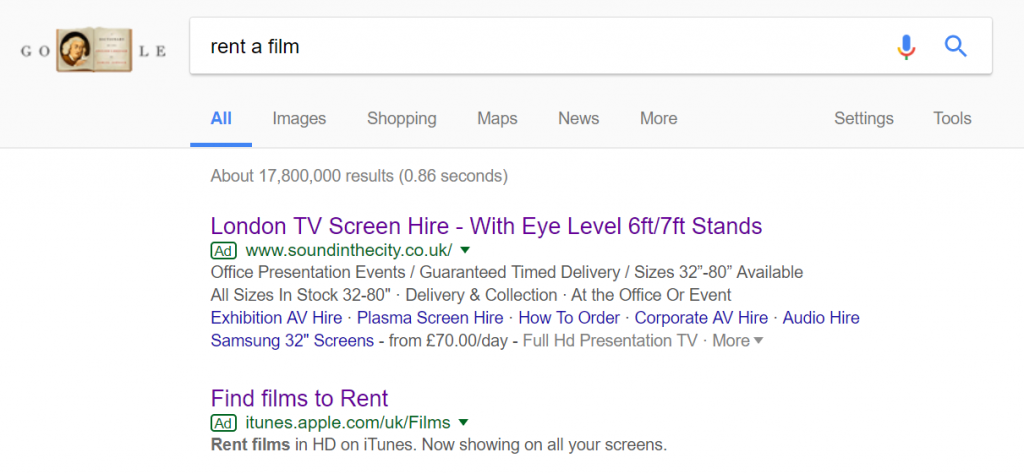 Before looking at the advert, it should be pointed out what I was expecting to view from such a search phrase: to rent a film such as for a movie night in.
As for paid search results, only two adverts appear which is slightly surprising – in today's world, less people are looking to buy films and are, instead, looking to rent and subscribe to packages, such as Netflix, to get access to films. Therefore, I am a little surprised the competition is so low that the maximum of four adverts does not even appear.
Looking at Sound in the City's PPC search advert, it appears that the targeting of the advert is slightly adrift from what I was looking for, as the web user, from searching for 'rent a film' – Sound in the City appears to offer screen hires. This is an example of poor targeting within the campaign which would result in a much lower ROI for Sound in the City, since a lot of their traffic most likely comes from such a search phrase which has no intention to rent a TV for something such as office use.
After clicking on the advert, I came to the following landing page:
There are two ways the analysis of this landing page can be approached:
As a continuation of a PPC campaign with poor contextual targeting – Since the web user is looking to only rent a movie, landing onto a website such as Sound in the City's is irrelevant to the web user.

The likelihood would be that the web user will click off the landing page to find a more relevant search result. From doing this, the quality score of the campaign will reduce causing the CPC to increase, eating its way into the budget of the campaign.

Forgetting the poor contextual targeting, the landing page is, near enough, an example of a homepage used as a landing page. This is a bad idea for Sound in the City since:

There is lots going on in this landing page, which would easily overwhelm web users as to where they should click or head to next on the page.
As a theme for a website, it is a bit old and does not seem responsive like many other landing pages are nowadays.
The colour choice used is also a little extreme, with around 5 major colours appearing on the web page – this will continue to provide a 'cluttered' look to the page.
From this, unfortunately, Sound in the City's landing page is a poor example of one to use for PPC purposes.
A student in England studying a Masters in Automotive Engineering with Motorsport, Will created AskWillOnline.com back in 2010 to help students revise and bloggers make money developing himself into an expert in PPC, blogging, and online marketing. He now runs others websites such as PoemAnalysis.com and RestoringMamods.com You can follow him @willGreeny.
| | |
| --- | --- |
| | Recommended posts |