The last PPC campaign I analysed in the 'Analyse A Real PPC Campaign' series was from Match, who had a very effective search advert. Be this as this may, the landing page was a huge let down, for the simple fact that it produced an error, relating to a problem with Match's servers. This would have made all of the effort up to that point futile.
An area that will be of particularly high competition is the finance sector, such as for car loans. With this, here is an analysis of a PPC campaign from Car Finance 247.
To view Car Finance 247's PPC search advert, I had to type into Google search UK, 'car loan':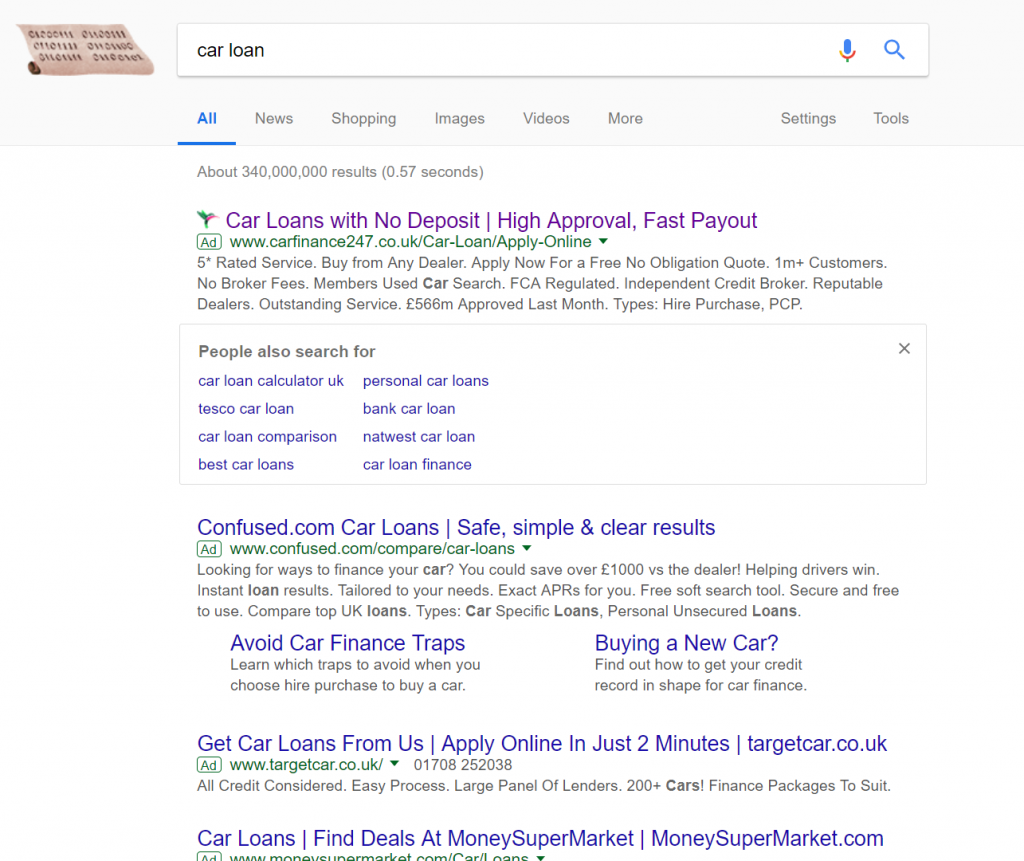 Straight away, it is extremely important and good that Car Finance 247 managed to get the top spot of paid search results. The 'People also searched for' box appeared for this search results, pushing positions 2-4 further down the page, with position 4 being below the fold of the page itself.
Looking at the advert itself, it is a very good search advert. The title is packed with information and incentives to take a car loan out with Car Finance 247. Since no ad extensions are used, they have opted to fill the description with a lot of content instead, where there is the presence of a call to action, 'Apply now', to entice the web user into clicking on the above advert. The only negative with this advert is why Car Finance 247 did not choose to use a ratings extension, since the first line of the description starts with '5* rated service' – they could have illustrated this with an ad extension.
After clicking on the above advert, I came to the following landing page:
This is a great example of how a landing page should be. Below are the main pros that are going for this landing page:
This is a lead capture landing page, which is made clear with the bright and clear box to the right where the web user can choose how much to borrow and how long to pay back the loan. A good lead capture landing page makes it obvious where the lead capture is on the page.

As well as a lead capture landing page, this page can also be seen as a click through page, from the large green 'Apply now >' button to the left. This provides the web users two routes to getting a car loan out with Car Finance 247, reducing the risk of the web user exiting the page early.

An image can portray a thousand words. The image background is of a happy women, making the web user think that they can feel similar emotions by taking a car loan out with Car Finance 247.
The left hand side uses the rule of three to provide three reasons why you should do business with Car Finance 247. This helps to entice the web user into a conversion.