The last article to have been analysed in the 'Analyse A Real PPC Campaign' series was JustEat who had, in general, a well optimised pay per click advertising campaign. However, I did feel there was one area of improvement on the landing page where they could have had used location services to make the landing page not a 'middle man' landing page. In this article, with the start of the football (or soccer) season, I thought to look at what adverts and campaigns that were appearing for everything related to football betting. In this article, I am going to be analysing bet365.
To view bet365's PPC search advert, I had to type into Google search UK,'bet on football':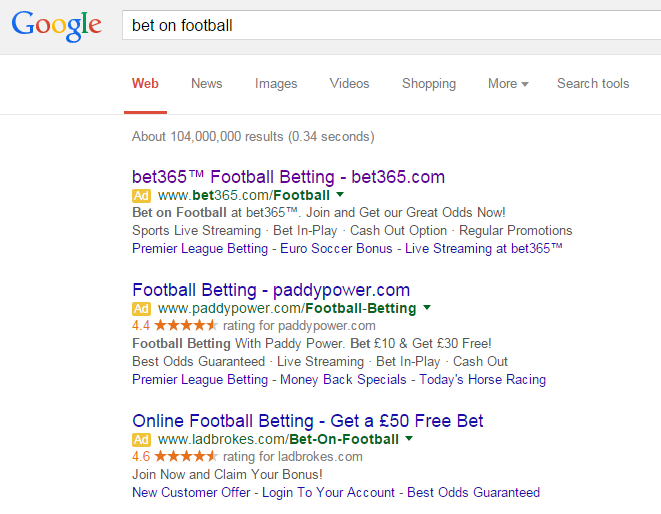 Of course, with it being the start of the season, there is a lot of competition in football betting as this is the time of year most people put their accumulators on and their bets for the new season. For this reason, it is no surprise that the maximum number of adverts have appeared.
It makes sense why bet365 are top because, shockingly, they are not even on the first page of results for such a crucial keyword phrase (which goes to show even some of the biggest companies have poor SEO)! bet365 have chose to use PPC to boost their traffic for this reason.
Looking at the advert, it is well optimised and is packed with information for the web user to read and take in. I particularly like the overuse of their brand name so it is engraved into web users for them to visit bet365 direct after viewing/clicking on the advert. The one point I think bet365 could improve on is by having a promotional offer. The two adverts below bet365's both have free bets up for grabs for new customers – surely, to stay competitive, bet365 should have done the same and if they have, why have they not used it as an enticement in their search advert?
After clicking on the above advert, I came to the following landing page:
The first thing that doesn't make sense is the fact bet365 have not used the free bet enticement – surely that is a big factor in new customers using bet365 over competitors or not?
As for the landing page, it is good and bad:
It is clear this is a click through landing page with the big yellow 'Bet Now' button – this page, for this reason, will attract a healthy click through rate.
However, the page seems to be very generic since there are different language options at the top of the page (where it could be used for something better).
There is a lot of content to cover the terms and conditions. I understand that bet365 have to put this on the page but in the prime area of the landing page? Surely they could have placed the terms and conditions below the fold of the page or at the bottom of the page?
As much as the landing page is good, it is a bad example at the same time.
Will created AskWillOnline.com back in 2010 to help students revise and bloggers make money developing himself into an expert in PPC, blogging SEO, and online marketing. He now runs others websites such as Poem Analysis, Book Analysis, Ocean and Beyond, and RestoringMamods.com. You can follow him @willGreeny.