For anyone who is already familiar with Facebook (as a user), you will notice that more ads seem to be appearing through out their network. As an advertiser, this is obvious… and it not only means that you will have more impressions served, but also more competition when it comes to getting a higher click through rate and turning a profit on your ad campaigns.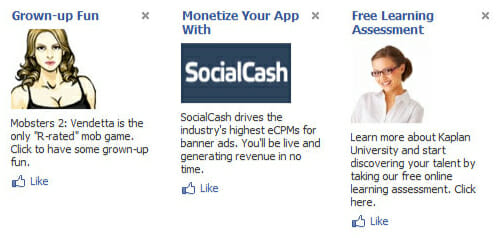 The following tips will come in handy when creating your next set of Facebook Ads. Be sure to upload a ton of different ad copies, so you can see what people are clicking on, then replicate the images with minor changes.
Add Borders to Your Images
Not only will this make your ad copy images stand out from the other advertisers, but seeing a border around an image makes people want to click.
Use Crazy Images!
Browsing the web is like piquing your interests… if you see something interesting, crazy or weird… you are going to want to click it. The same applies for ads!
This has been a quick list of three tips that you should always be using to increase the click through rates on your Facebook Ads. Finding success on Facebook Ads is not easy, and in the end it truly comes down to your internal split testing of images/ad copy and how you target your audience.
Be sure to check out my full "Five Killer Examples of How to Make Your Facebook Ads Pop" post on PerformInsider for more tips and real examples of Facebook Ads that grabbed my attention!