Local businesses are now needing to adapt to the ways of the internet now more than ever. More people are going online to find local doctors, professionals and services before making their upcoming appointments. If you can't be found in the major search results, then there is a good chance that you will start to see a dramatic decrease in referrals and appointments.
The truth is more people are using the internet not only to find out information about their local businesses and practices, but also for reviews and to book appointments online. When someone goes to Google and performs a search for your name or business, will they see a web site listing or just generic information provided by Google? If you don't have a full web site, then you are going to lose out in the local advertising game.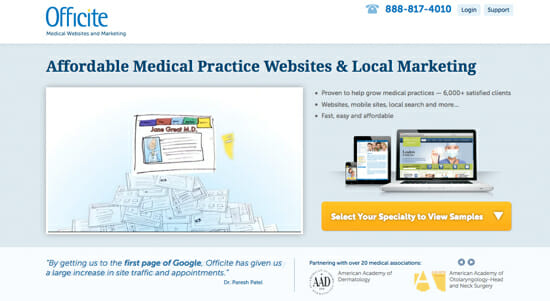 As important as it is for your local business to have a web site, it's also a completely no brainer to setup. It's now cheaper and more effective than ever to create a web site, and you don't even need to be a designer or programmer. Through the use of online design and marketing companies like Officite, you can have a local business web site up and running for less than you think. Be sure to check out their web site to see what features they can add to your site, such as appointment booking,
An excellent way to understand how local marketing and site creation works, be sure to watch the short video below.
The video above is a great learning tool to see what you can do with your site, but for even more information, be sure to check out the Officite blog. Since Officite is run by marketing professionals, they are adding new content to the blog every week, many of which are of great value to local businesses. You can see three of their most recent and valued posts below.
Before pushing off the idea of creating a web site for your local business or practice, be sure to think about the opportunity at hand. You want to make sure your business is in front of the right people in the search results before they go to your competitors instead. Visit the Officite and see how they can help.