With all of the recent changes in Google's algorithm and how they are whipping link building blog networks and farms right out of their search index, more and more people are looking for legitimate and effective ways to bring in more links and exposure to their web sites. One of the most effective ways to get people to find and link to your site, is through blog marketing. Unfortunately the time it takes to write articles and search out relevant blogs is quite time consuming.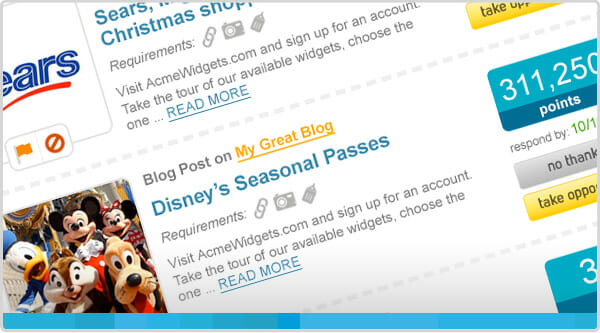 Instead of dealing with these frustrations, you can use services like Social Spark to outsource the process. The Social Spark network is run by IZEA and they have a whole network of bloggers who are actively looking for new topics and reviews to write about. As an advertiser or site owner, you would be able to choose the topic or site you want reviewed, how much you will compensate site owners for their reviews, and you will also be able to approve and deny web sites based on their content.
The compensation process is managed and processed directly through Social Spark. As an advertiser, you would compensate publishers through a points based system in exchange for their time and posting the content on their sites. All blog posts are written in the site owner's own words and published directly onto their site. As an advertiser, you are only paying for blog posts that are reviewed and approved for quality, then actually go live.
Let's take a deeper look at Social Spark, and why so many Fortune 500 companies like 1800 Flowers, Glenn Beck, GoDaddy, Overstock, AT&T and so many more are continually using their services to market their brands and expand their reach.
Why SocialSpark Works
Metrics are Key
When SocialSpark was created, they had one main goal in mind… and that was to make it an easy process for bloggers and advertisers to work together, while also being able to provide full tracking and key metrics on all ad campaigns. When setting up an ad campaign, advertisers can view actual Google Analytics data about each of the web sites they are going to potentially work with. Once a post is live, the advertiser can view the performance of the post, including it's click, views and CPC, which will help in determining the end ROI on each ad campaign.
Quality
No matter what type of advertising you are going buy, quality means everything. All blogs that are in the Social Spark network are previously screens and curated on an ongoing basis. This means the Social Spark network is always up to date with the highest quality and freshest blogs to choose from. You can also preview all web sites before selecting them to run you reviews.
FTC Compliance
With so much talk about trademarks, copyrights and the FTC getting involve in what bloggers can talk about and blog about, it's important to always keep things legal. Social Spark is one of the most aggressive networks out there for staying compliant, and they also meet all and exceed all FTC and WOMMA compliance requirements.
How Bloggers Can Make Money with Social Spark
We covered the basics behind using Social Spark as an advertising and for building links. As a blogger, you can also join Social Spark and start of the top brands and companies that are advertising through their network. If you have a smaller blog, but looking for high quality brands and relevant topics to make money with, Social Spark is a great place to start.