We've talked about Staree a lot recently, as they are one of the latest startups to gain a lot of attention in the social networking world. With Facebook zooming to their quick target of one billion users, and Twitter always in the news… then Instagram selling for a cool billion dollars, it's no surprise that Staree is making a name for themselves by trying to complete and blend the best of all of these programs into one. Staree allows users to upload content to their page, and also get paid for it… something else no one is doing.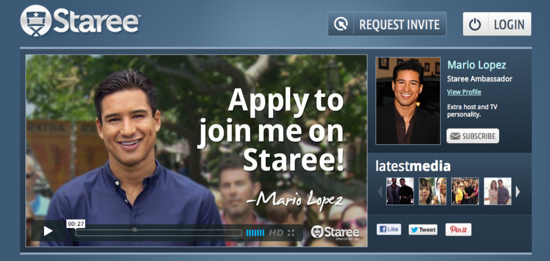 In their latest press release, Staree says they saw over a million visitors within their first thirty days of going live.
"This is the biggest platform launch in IZEA's history," said Ted Murphy, Founder and CEO, IZEA. "In its first month Staree has seen ten times the number of visits we saw when we launched SponsoredTweets.com. It is a testament to the power of mobile photos, and underscores the opportunity we see in this market."
In other news, Staree continues to bring in the big celebrity names to use and represent their network. The latest big name and spokesperson for the site is Mario Lopez, who is famous for getting his start on the 90s sitcom Saved By The Bell.
With Staree in only it's first month, it will be interesting to see where the site is headed and how many members they can acquire in their first full year of going live.