How many times have you driven down the street and saw those simple signs pushed into the ground that say "Make Money Online" or "Find Singles in Your Area" and then they have a phone number or web address to go to? Sure, we've all seen them. Have you ever thought about how effective they are and better yet, where to get great signs and promotional items like these created?
I was reading a story about a guy who made well over a million dollars in profit by creating mini sites for dating web sites, then had custom built signs created that he posted in a ton of city areas. Without these signs and local advertising, the model would never have worked. Just an awesome story for taking something that works well online, and implementing it for local and offline marketing.
Speaking of offline marketing, there is a whole work out there that many people aren't tapping into, or simply don't know where to order promotional and custom signs in bulk. There is an excellent site called Signazon.com which creates virtually anything you could need for personal or business use and especially ad campaigns.
Let's take a look at what Signazon.com has to offer.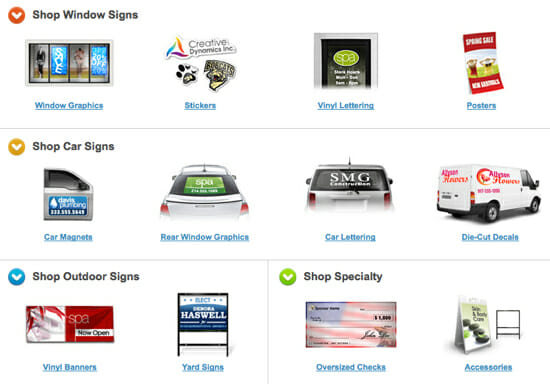 When it comes to offline advertising and promotions you have a limitless amount of options. From car signs to shop windows, if you are looking to get attention, then Signazon.com can put together some great quality promotional items for you.
I've always been a huge fan of ordering stickers for my web sites and their logos. Through the Signazon web site you can get your own clear, vinyl or window sling custom stickers made for less than $1 each when ordered in bulk.
Request Your Free Sample Kit
In addition to looking at all of the different products and sign creations that you can order through the site, Signazon also offers a free sample pack for anyone who wants to get a good visual and hands on feeling of the type of quality and products that can be created.