In the last few weeks, it has come to the attention of people on social media that Google has implemented a new feature to their search engine results, that appears to be in very limited testing. When the web user searches using a question, depending on if the website that is ranked highest adopts a schema approach to their website of '/question', '/answer' etc. then Google takes the relevant answers out, illustrates them similar to rich snippets, and labels the 'Best Answer' in green with the most amount of votes associated to it.
Below is an example of how this looks on Google, for the website stackexchange: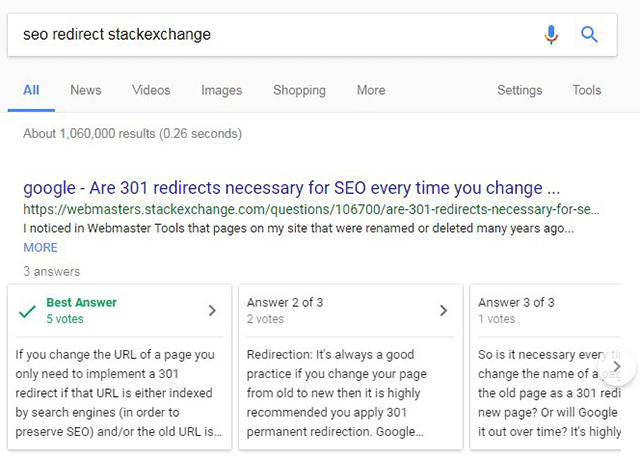 For such a search phrase, the top answer used the schema '/questions/' which made clear to Google that they were able to take the answers from the content to display as rich snippets below. The best answer appears first with five votes, with the remaining two answers to the right of it, each being accessible to click onto to expand the relevant answer.
Google's Best Answer Analysis
This is a good addition to Google search: especially to make sure of the Q&A websites where users are able to vote for what they feel is the best website.
On the whole, if the web user has a question, it can typically be answered using a rich snippet. For example, 'how old is Barack Obama?' can be answered using one rich snippet.
It is for the more completed and technical questions which is where Google struggle to show a singular rich snippet for, hence making it difficult for Google to display the relevant correct information to the web user.
The implementation of best answers, based on votes, in Google search is something that will benefit the web user and improve their experience with Google. For this reason, we should not be surprised for the testing to increase in size until this final rolls out worldwide.
What does this mean?
If you have a website where you are answering questions and allowing a 'forum' style approach to questions and answers, make sure you adopt the correct schema for Google to process your web pages as 'Best Answers'. This involves providing you have the right URL structure and the right theme design/plugins used (if using WordPress) to adopt a forum-style that enables answers and voting to question titles.
The Best Answer implementation does not seem to be live yet, and is in severely limited testing (as I have struggled to replicate best answers to provide more examples for this article). Therefore, it is definitely not too late to restructure your URLs and your website so that when you are answering a question, you can have it voted on with different answers from different web users.