There are two major reasons why Facebook Ads has been such a successful ad platform. The first is that you can instantly connect with over 800 million people that are currently using Facebook, and the second reason is that you can target them based on their interests, along with full demographics. In short, it's a marketers dream come true.
In this post we will walk you through the process of breaking down who exactly you want to advertise to when building an ad campaign. The tighter your targeting, the better chances you will have a higher conversion and chance for a profitable ad campaign.
What You Can Target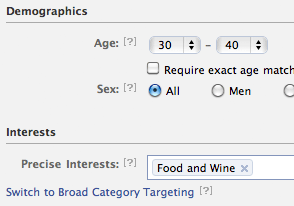 As mentioned, with over 800 million users on Facebook, it would be nearly impossible to create a profitable campaign if you were targeting to all of them. Fortunately Facebook has created a self serve ad platform that lets you target to the exact audience you are looking for, based on the information provided in people's profile accounts. You can target your ad campaigns based on any of the following demographics and fields.
Location, Language, Education, and Work

Age, Gender, Birthday, and Relationship Status

Likes & Interests: Select Likes & Interests such as "camping", "hiking", or "backpacking" instead of "tents" or "campers"

Friends of Connections

Connections
Facebook Ads Targeting in Action
To best explain how Facebook Ads targeting works, let's show you an example of the actual process when creating a campaign. Just for example, in the screenshot below we targeted people living in the United States, specifically NEW YORK only, Ages between 26-31, Only FEMALES who are SINGLE and INTERESTED IN MEN. Lastly, just to show even more targeting options, we only selected to advertise to people who are INTERESTED in MOVIES and REALITY TV. The end result was 46,440 matches, which is a decent amount for such a highly targeted group.
The "Estimated Reach" floating window on the right side will show you a summary of all your desired targeting fields, while also giving you an estimate on how many users fall into your selected demographics, and will potentially see your ads.
Through Facebook Ads targeting, you can create the perfect audience for nearly any advertising campaign. It's best to keep your ad campaign targeting tight and within small groups, such as location (country) and age groups. Later on we will talk about maximizing your advertising results and split testing campaigns across different demographics.
This post is part 2 of a 7 part series on creating your own Facebook Ads campaigns.