The secret to finding success on Facebook Ads can usually be summed up one sentence… "get people to click!". In the last post we talked about how important it is to target the right audience, which is now the easy part of creating an ad campaign, but what really counts is creating a winning ad copy that gets people to click. Since you are bidding on a CPC or CPM model, you will want to focus on your click through rate, as the higher your click through rate is, the more money Facebook Ads will make on a CPM basis, which means more delivery for you as an advertiser.
The path to success on Facebook Ads is being able to grab the attention of the readers and making them click. Through the use of multiple ad copies and attention grabbing images, you can greatly increase your overall click through rate. The perfect ad is the right combination of image use, a one line header that grabs the users attention, and an honest yet click worthy description.
Here are a few quick tips from the Facebook Ads team on how to create a winning ad campaign.
Include your business or Page name, a question, or key information in the title

Provide a clear action to take in the body copy, and highlight the benefits

Use a simple, eye-catching image that is related to your body copy and title

Target different audiences to determine which groups are most responsive to your ads
Examples of Facebook Ads
How can you find some of the best running ads on Facebook, and how other advertisers are targeting users of all interests on Facebook? One of the best ways is through the use of StackThatMoney forums, which has a full forum of Facebook Ads case studies and tools for mining through Facebook Ads. If you aren't looking to spend any money, you can simply browse through Facebook and see the ads that display in your account, or simply head over to Google and perform a "Facebook Ads" image search.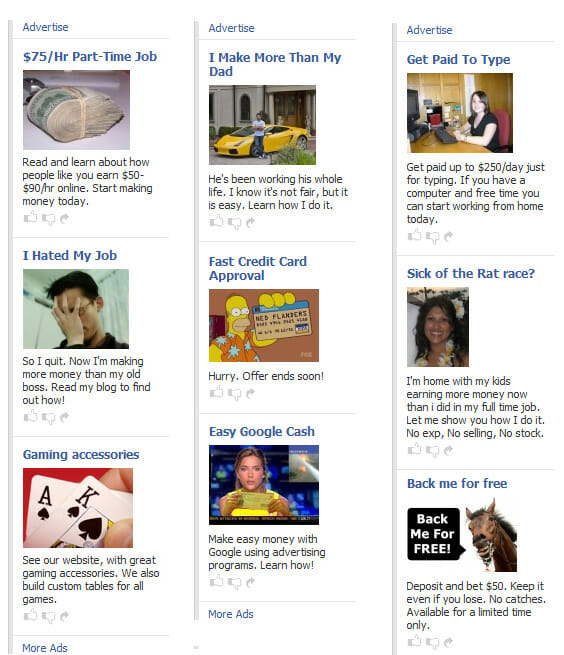 The screen capture above is from performing a Google Image search for "Facebook Ads", but is actually a great example of what you can do with Facebook Ads. Some of the best ad copies are of crazy images that grab peoples attention and gets them to click. See the ad with Homer Simpson for a "Credit Card Approval" offer? They are not relevant at all, and I'm sure the Simpsons have nothing to do with the offer… but imagine the click through rate on someone using that ad copy, and targeting people who like "The Simpsons"… I'm sure the click through rate is several multiples higher than if they were just using an image of a boring credit card.
As I mentioned, in the end it all comes down to creativity and grabbing the users attention when building Facebook Ads. You will want to keep your targeting tight, and build ad campaigns for small niches and what people are interested in, then removing out low performing ad copies and sticking with the winners.
This post is part 3 of a 7 part series on creating your own Facebook Ads campaigns.