No-one will argue with the fact that pay per click advertising is the most used form of advertising online for so many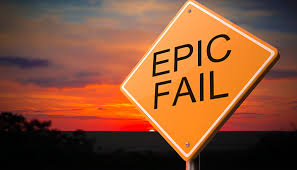 different reasons. For this reason, more and more new advertisers are drawn into using PPC advertising over other alternatives such as banner, intext and social media marketing. However, just because it is popular does not mean every advertiser will make a success of PPC. In truth to the matter, without proper preparation for any campaign, the likelihood is that it will fail. For this reason, I thought it would be helpful to go through some of the reasons PPC campaigns fail so you can make sure you do not do any of the following.
Poor Keywords
There will be some advertisers out there that will look at what he or she is trying to promote and make keywords just from that…this is wrong! In order to make sure your PPC campaign is successful, you need to research your keywords thoroughly to make sure 1) you have chosen the right keywords and 2) you have chosen the right negative keywords – not only is it important for you to have a great selection of contextual keywords to attract the right audience, you also need to beware of the traffic you do not want to attract and include such negative keywords.
Basically, PPC keywords need alot thought.
Poor Landing Pages
I will say time and time again that the landing page is one of, if not the, most important aspect to the whole PPC campaign because it is where the conversion occurs. For this reason, is it optimised to get the conversion you want? For example, if you want to gain information about your traffic, have you made clear in your landing page this by making it a lead capture page?
If you unsure about you landing page, all you have to do is have a look at the hundreds of articles found in landing page optimisation on PPC.org and learn more about landing pages there.
Over Optimised Search Adverts
Search adverts of PPC found on search engines such as Google are not as simple as they were five years ago. This is because we now have the addition of ad extensions to 'spice up' the search advert so that a click is more likely and you can get a conversion much more easily. I really like ad extensions and would recommend all advertisers to use them. However, do not over-use them because this will make the search advert over optimised and ineffective at luring and enticing the web user into a click: remember, that is all what the search advert has to do…leave the rest of the work for the landing page.