It's the first instalment of the 'Some Useful Articles' round up with the last month having a great selection of articles ranging from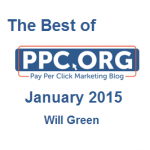 PPC tips to SEO to talk about landing pages. In this article, we can expect to see some really helpful articles around the topic of PPC: not only because there always is, but because it is the start of the year which means a round up of the best articles from the whole of 2014. Here are some useful PPC articles from January 2015.
Analyse A Real PPC Campaign
Like with most months on PPC.org, January brought a wide range of articles which saw me analyse real PPC campaigns:
Database of PPC Advertising Articles 2014
I don't think I need to explain this article too much. In this article is every article I thought to have been the most useful from the whole of 2014. For this reason, I am sure you are bound to find at least three articles that you deem helpful to you or interesting reads.
Increase Conversion Rate Of Click Through Landing Pages
As I say time and time again, I deem the landing page to be one of, if not the, most important aspect of a PPC campaign. For this reason, if you have adopted a click through landing page, you will naturally want to optimise it so, in basics, it does its job better. Considering a click through landing page has the conversion of gaining a click, in this article are a few ways you can help gain that click from the web user.
Ad rank in PPC is very important to the success of a campaign. It determines how highly your advert will get ranked compared to others. Having a high ad rank means you can lower your CPC which ultimately means your campaign runs more cost efficient. Therefore, here are a few ways you can improve your ad rank.
The Latest PPC News – Apple Search Engine and Tweets on Google…
It is good to keep updated with what is actually going on with respect to PPC news. Therefore, here is the latest information surrounding PPC – Apple might be creating a search engine, tweets are going on Google and Bing updated their quality score.
There's the top eight articles I believe I created in January 2015 that will benefit you the most. I hope this has proved useful to you like it has for so many other people.