Another month has gone by which means another round-up of the best articles about all things pay per click advertising. January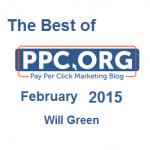 had a great selection of articles ranging from a ton of articles from the 'Analyse A Real PPC Campaign' series to a complete database of the articles around PPC from the whole of 2014. So, without further ado, here are the best articles on PPC.org from February 2015 that you will find the most useful to read.
Optimise the URL of a PPC Search Advert
The search advert is still a fundamental to the whole of PPC. For most advertisers, they will know how to make the most of the title and description. But, what about the URL? In actual fact, the URL can be optimised to help improve the success of the whole advert considerably so don't ever forget to optimise it!
SEO vs PPC – Which One Should You Use?
In this article, I highlight the main benefits and drawbacks to using search engine optimisation and pay per click advertising. At the end of the article there is a conclusion with what, I feel, advertisers should do to maximise the most from SEO and PPC.
Analyse A Real PPC Campaign 
Here are all the articles from February from the 'Analyse A Real PPC Campaign' series:
Dove – A good selection of colours makes the landing page look clean while using the top of one of their products appear above the fold will help to induce the web user to scroll down the page
Singapore GP – Since Formula One is a high cost sport (that is for the spectators too), it was interesting to see how Singapore GP made the landing page seem premium in its look.
SocialBro – Another example of a great landing page, SocialBro use many features to get the web user to click through their click through landing page.
The Book People – Through using ad extensions and by having a colour landing page, The Book People's campaign is sure to be a success.
There seems to be the stereotype around the internet that PPC is great for making money…which it is…only if you know how to use it right. You cannot guarantee success in PPC and, on some occasions, it will cost you more money that it is making for you. Here are 3 ways in which PPC can cost you money.
Here's A Few Things PPC Advertisers Should Consider…
You cannot just jump straight into a campaign – you need to plan and prepare yourself for different situations in PPC. For this reason, I thought it would be a good idea to highlight what PPC advertisers should consider when using PPC.
There's the top eight articles I believe I created in February 2015 that will benefit you the most. I hope this has proved useful to you like it has for so many other people.