It looks like Twitter is finally making an aggressive approach to start making some real money with their site and opening up their own advertising platform.
I just received the following email from Twitter Ads which offered $50 in free credits, so I decided to check it out.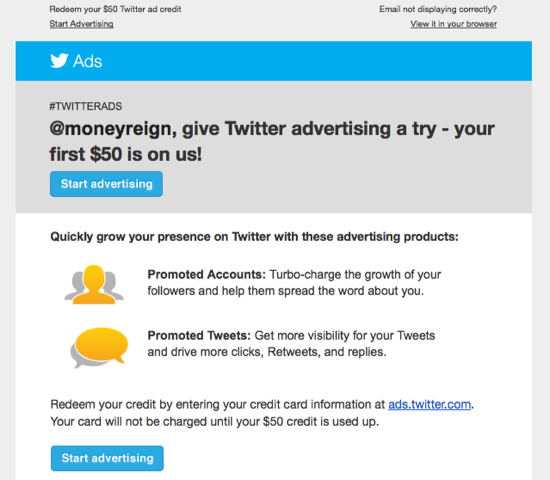 The sign up process was ridiculously easy (login through active twitter account) and is made up of the following two options; to either bring in new followers for your account or to send out your tweets to more people on the Twitter network.
Promoted Accounts: Turbo-charge the growth of your followers and help them spread the word about you.
Promoted Tweets: Get more visibility for your Tweets and drive more clicks, Retweets, and replies.
As mentioned, it was easy enough to setup the ad campaigns and I actually went ahead and setup a small test campaign for both of the promotion options. Clicks/follows start out at .01 and up (a maximum of $1.25 is recommended by Twitter).
I currently set my bids at .10 per click/follow and a daily spending limit of $5, so it will be interesting to see what type of volume they can deliver at these rates.
I'm surprised it took Twitter this long to offer these services and it will be very interesting to see how much of a difference it makes for who the "most followed" users on Twitter are.
This will also impact many of the other Twitter follower services out there that can inflate your account with thousands users (bots). Since the option is now there for Twitter to bring you real "paid" followers, why would anyone ever use these other low end networks.
I will keep you updated as the first set of stats start to roll in.