How many times have you already looked at your smart phone today? Probably more times than you can remember.
If your business and online marketing campaigns aren't already transitioned over to mobile advertising then you are already falling behind.
Online social media companies are in a rut right now as they are lost in the world of mobile traffic. More people are now using their smart phones to post pictures, share updates and perform just about any other action possible through their phone. The problem is that many of the "web site" based companies simply don't know how to monetize their traffic when it comes to smart phone use.
The same holds true for online advertising and pay per click marketing campaigns.
Since search engines and web sites operate differently through mobile devices, it means they need to have their own advertisers and sources for traffic as well.
If you were going to setup an ad campaign with any of the major search engines, you would have the option to advertise directly to "desktop" or "mobile" users.
Now that there are two completely different ways for people to access your web sites and advertisements, you need to create two different ways to run your business.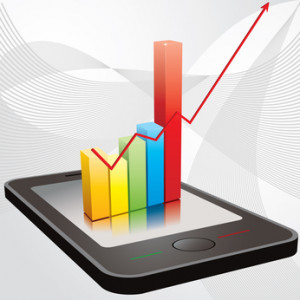 Web sites are great for lots of content and heavy loading or complex viewing.
Mobile phones need to load quickly, be simple on design and give the user exact what they want.
When it comes to mobile advertising you also have a few different option.
Google has already adapted their online advertising to serve mobile advertising web visiting web sites, but you will probably recognize that most advertising is done through mobile applications. Just like banners are served on web sites, free applications will usually display different banners on the top or bottom of your mobile device screen.
Your business needs a mobile application too!
Apple has completely changed the way people use their mobile devices, and through their app store they've also changed how business is done.
With the simple download of an application you can now access your bank accounts, play your favorite games, access your online ad campaigns or pretty much anything else you can think of.
The big question is, when people are searching for their next mobile app to download, will they be able to find your business?
Almost all of the major companies out there already have one, but those who don't are quickly falling behind.
As we continue to move forward into 2013 you will see a dramatic increase in the use of mobile devices in our every day lives. Make sure that your business is adapting with the times and easily accessible in everyone's pocket!
I am blogging on behalf of Visa Business and received compensation for my time from Visa for sharing my views in this post, but the views expressed here are solely mine, not Visa's. Visit http://facebook.com/visasmallbiz to take a look at the reinvented Facebook Page: Well Sourced by Visa Business. The Page serves as a space where small business owners can access educational resources, read success stories from other business owners, engage with peers, and find tips to help businesses run more efficiently. Every month, the Page will introduce a new theme that will focus on a topic important to a small business owner's success. For additional tips and advice, and information about Visa's small business solutions, follow @VisaSmallBiz and visit http://visa.com/business.