When it comes to SEO link building services, you have a lot of different solutions and web sites fighting for your business. One of these services is "The Hoth", which specializes in SEO link building strategies through article spinning, using web 2.0 directories and link wheels. I first heard about the company when they were featured on ShoeMoney's Free Shirt Friday. Since I'm always on the look out for new companies and what's hot in the world of SEO and link building, I got in touch with TheHoth.com and setup a test campaign to see how they work.
First off, who runs The Hoth and What is it?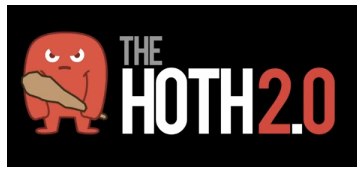 Right when you get to The Hoth web site, you will see a video in the top right corner. The two guys in the video are Alex Pyatetsky and Dax Miller, the creators of The Hoth. The video is around 10 minutes long and goes into great detail about how The Hoth runs their seo link building services and creates backlinks for your web sites. Alex and Dax are very proud and confident about their company, which makes them the face of the company, so they created a nice long video that is more personable than a quick cartoon or text based video to make a quick sales pitch.
The three part link building process concept is based on link authority, link volume and rapid indexing. The top level of link building is through the use of top level authority web sites like wordpress.com, blogspot.com and squidoo to create a mixture of original content. The next level of link building is through the use of 2.0 web properties, then profile links and social bookmarks are used in the final stages of the link building process.
The Hoth also has a handful of testimonials on their site from other well known SEO / link building services out there such as BlueHatSEO.com and Drip Feed Blasts.
The Hoth Link Building Reports
After placing an order with The Hoth, they will get to work on using your requested urls and keywords to build a unique link plan for you. Once completed, you will receive a link report like the one below. I have blurred out the exact keywords and urls built for the campaign, but you will get the idea. The report breaks down all keywords, articles, web 2.0 and images used for your cycle of backlinks and bookmarks.
Attached is your HOTH 2.0 report including:
1 Blogspot blog with 5 articles
1 WordPress blog with 5 articles
1 Squidoo Lens
35-75+ Web 2.0 Properties
100-200+ Social Bookmarks
500+ Profile Links
PLEASE NOTE: The Results Package includes 1500 article submission, which are not included in this report.
The Hoth Link Building Packages
There are currently two different link packages avaialble through The Hoth. The first is a trial package for $60, which includes 1 super spun article that is posted to wordpress, blogspot and squidoo, then spread through out their link building process. Their premium package is $200, which is made up of 5 super spun articles. Both packages use up to 3 URLS and 5 keywords per URL.
The Hoth Link Results
In the end, for most of us, the idea of building or managing seo and link building sucks. When companies like The Hoth have small enough packages to test with and see results, it's always a good thing. Many of the link building services out there require a minimum several hundred dollar package, while you can get started with only a $60 package at The Hoth. The results from my link building package are still jumping all over the place, but I may follow up with another package to see how it can improve on the building and ranking process. I will be sure to keep you updated with future updates and moves in the rankings.
In the meantime, check out The Hoth.