Another month has gone by which means another article to round up the best articles on PPC.org from July 2015. June had a great selection of articles, which had a lots of articles from the 'Analyse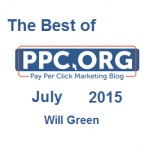 A Real PPC Campaign' series as well as interesting articles about ad extensions improving mobile PPC and search vs display advertising. In this article, what you will find is another great selection of articles about pay per click advertising that I am sure of will be useful to every single person who reads this article – you can at least gain something from reading at least one of the articles below. So, without further ado, here are the best PPC articles from July 2015.
How to Get PPC Traffic To Engage
At the end of the day, it is always going to be a difficult process to get people online to engage. The main reason for this is because there is always an alternative that is one or two clicks away so if the web user does not like a certain webpage, all he or she has to do is exit it and find another. This is why it is difficult for PPC advertisers to get their traffic to engage enough to convert. To help with this problem, here are a few ways you can help help your PPC traffic from becoming bored and exiting your landing page.
Why Banner Advertising Will Never Be As Good As PPC
I admit that this is a killer blow for banner advertising. However, the points I outline in this article are completely true and should make advertisers realise that PPC is always going to be the safer and better choice. Sometimes, banner advertising can work better than PPC. But, for consistent and reliable results, PPC cannot be beaten.
It is important to identify why pay per click advertising campaigns go wrong because, if we do not do this, how can we learn from our mistakes? Here are three problems I have found over the years that have caused PPC campaigns to fail.
Analyse A Real PPC Campaign
Like always, there is a great selection of articles from the series that look into real life PPC campaigns to analyse both their search advert and landing page:
There's the top seven articles I believe I created in July 2015 that will benefit you the most. I hope this has proved useful to you like it has for so many other people.