The month of April had lots of pay per click articles looking at a range of specific areas from landing pages to the best performing adverts of Adsense. Either way, it is a wise decision to have a read of a couple of the articles below. A trend I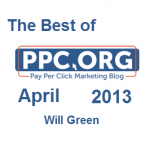 have noticed with April is the addition of my 'Analyse a Real PPC Campaign' series which looks into analysing a real campaign from a real business so that advertisers of PPC can learn some of the tips the biggest businesses are using. Anyway, without further ado, here are the best PPC articles from April.
Choose The Right Landing Page For Your PPC Campaign [Part 1] and [Part 2]
Most advertisers will simply create a landing page that they think is right for the type campaign they have running. This two-parter of an article looks to show advertisers that there are different types of landing pages out there which you should use for different types of landing pages. By looking at what you want to achieve out of your landing page, these articles will help you choose the best landing page for your PPC campaign.
All You Need To Know About Ad Categories For Google Adsense
Looking at the publisher side to PPC, many publishers find themselves with the problem of how to increase the CPC and CTR of their Adsense adverts. A simple way to do this is to unblock all your ad categories because 1) this will increase competition therefore your CPC and 2) you may find that some of the ad categories you first blocked provide an increase to your average CTR. It's a simple change which can have the potential to make publishers much more money.
Why You Need To Start Using Mobile PPC

PPC originated to displaying adverts on computers. This is still a huge part of PPC. However, every statistic out there will agree that mobile devices are becoming much more popular. For this reason, it is a good idea for advertisers to start looking into making PPC campaigns for mobile devices. As well as having the surge in traffic from mobile devices, there are a few more benefits mobile PPC has which may encourage advertisers to start using it more.
Why Do Advertisers Choose PPC?
PPC is used by millions of advertisers worldwide. Why is this? The simple explanation is that PPC is an awesome way to gain traffic be it short term or long term. This article looks into three reasons why advertisers choose PPC over other online advertising platforms such as banner and in-text advertising.
Analyse A Real PPC Campaign – , , Internet Explorer and Aston Martin
I would strongly recommend that you have a read of a few of these analysing articles. Each article looks at the text advert and landing page of the campaign seeing it's key advantages and disadvantages. From doing this too, we can then look into why the businesses chose to use that type of PPC campaign layout.
There's the top nine best articles I believe I created in April 2013 that will benefit you the most. I hope this has proved useful to you like it has for so many other people.