Search engine optimisation is constantly changing every year. Mainly, this is due to the large algorhtym updates Google implements which basically tell the world what Google deems 'good' and 'bad' for a website ranking. Although there has not been a SEO update for a while, this does not mean it is impossible to prepare your website for 2017. With this in mind, here are a few trends that I've picked up on in the last six months I feel will play a big part for website's and SEO so you can prepare for them earlier than expected.
#1 Mobile SEO even more Crucial
Although this is said year on year, 2017 is truly going to an extremely crucial year to make sure website's are as optimised for mobile devices as possible. You only have to look at statistics (such as mobile searches have outpast desktop searches and that Google are looking to make the mobile search the 'default' for Google rather than desktop) to realise how critical mobile optimisation is going to be in 2017. I think, up to now, you could have got away without investing too much into mobile optimisation for websites. However, in 2017, it is going to have to be complusory for websites to have mobile optimistaiton in order to succeed online.
#2 Adopting Structured Data Markup
Structured data markup or 'schema markup' as it is sometimes referred to is the term which describes how websites are making it easier for search engine to understand and disect an article so they can show the most useful information from it, potentially, on Google search results – this is becoming more and more of a trend especially with the release of Google Home, which relies heavily on answering questions using websites which adopt structured data mark up. Take the below example: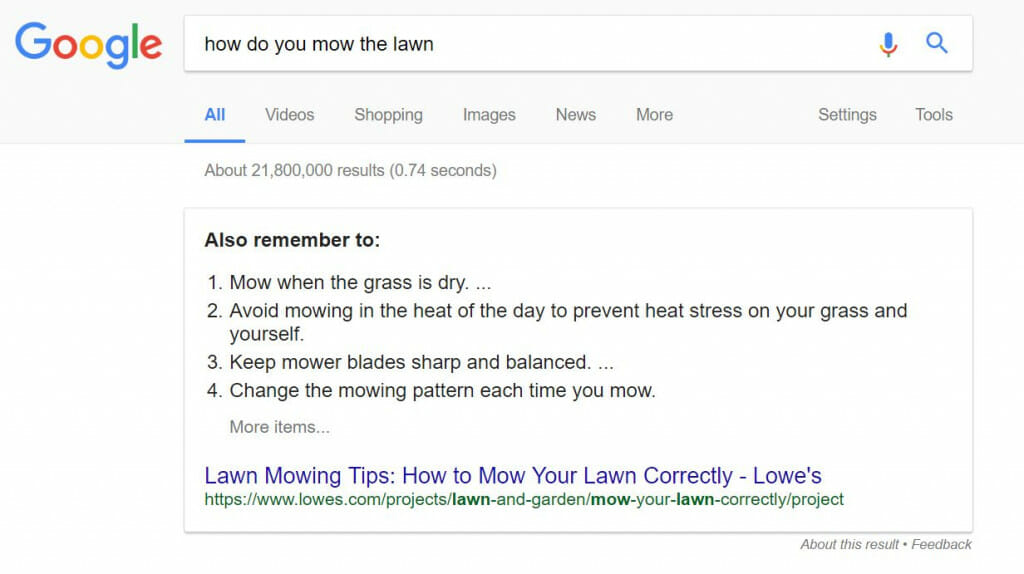 From lowes.com adopting such a schema markup, Google has found information in the article which it is happy to display on search engine results, increasing the search engine ranking of lowes.com for such a keyword search phrase. Therefore, adopting this structure for articles in 2017 can significantly improve your search engine ranking.
Voice Search is on the Rise
Continuing the above point, new technology, voice recognition hardware such as Google Home, Google Assistant, Siri and Amazon Echo, will be more and more reliant on answering simple questions based on schema markup articles on the internet. As well as this, articles which are very similar with its title to what the user voice searched for will also help an article rank highly. Therefore, there is going to be a huge push to making articles sound less robotic and more human as artificial intellegence increases and gets software updates.
On the whole, 2017 is going to be an exciting year. There have been many huge changes to PPC and SEO in 2016 which should continue into 2017. Therefore, preparing for these trends sooner will not only help your website sooner but keep your website ahead of any major SEO updates Google may release.