At , we like to think we have the corner when it comes to generating leads for our buyers in the financial services niche. However, with the growth of the payday industry, we are pretty sure there are several other lead generation companies in our space seeing some pretty impressive numbers heading into Q3 as well.
Payday Really?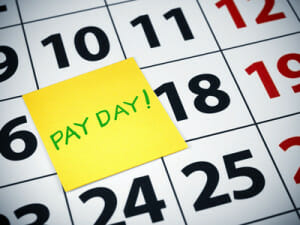 Payday is recession-proof. Payday has broad appeal, reaching both men and women. Most importantly, the audience for payday is huge, as it can be promoted to anyone with a job and a bank account.
We love being in the payday space because it is somewhat less susceptible to fraud than other niches and provides a service to people who are really in need. There are also some great technologies out there to match applicants and buyers. It is win-win-win for loan applicants, affiliates, and the buyers servicing the loans.
Regulation Nightmare?
There is a lot of misconception about the regulations surrounding payday loan lead generation. However, many of the regulations are very similar to those found in other industries and pertain to things like deceptive messaging and the handling of confidential information.  Also, like other industries, the payday space has its own self-regulation group, the Online Lender's Alliance, to set guidelines and best practices for lead generators.
Isn't Payday Seasonal?
Payday lead generation follows a seasonality similar to the retail industry with it's high peaks occurring in December and January.
So why bother talking about payday in the middle of July? Two reasons. First, the days following any bank holiday always tend to do well for payday. With Labor Day, Columbus Day, Veteran's Day, and Thanksgiving on the horizon, the time to start is now. Second, email is one of the best performing promotion methods for payday. Building a list takes time, so starting now will allow publishers time to grow a nice base in time for the seasonal rush in Q4.
*Bonus tip: It is also good to note that payday offers tend to do best around mid-day during the week. Weekends can be 'so-so' but weekdays are always hot!
Getting Started in Payday
Most CPA networks now offer a plethora of cash advance or payday loan offers. You can use offer aggregators such as Offer Vault or Bevo Media to find offers in this hot niche.
To get started with , visit us here to sign up.
What are your favorite payday offers? Share them in the comments below to give newbies a starting list.
PaydayPays! is an affiliate program. It is home to over 40 established brands in the financial services vertical.
This guest post was provided by the team at PayDayPays.