I tend to get the impression from advertisers and their campaigns that their social media presence does not matter as much as their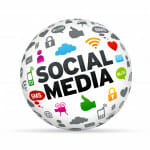 campaign's. You will find that advertisers do create social media networks for their campaigns and implement them onto the landing page but not for themselves. I find this as a problem because, in most cases, web users want to follow another real human being and not a website or idea. For example, I would rather follow Bill Gate's Twitter account than Microsoft's. This brings the point forward that it is important for you to optimize your own social media network so your PPC traffic can choose to follow just exactly who is making this campaign and is behind the whole idea of what you are trying to promote.
Twitter
Out of all the social media networks, this is the first one you should think about joining and optimizing (if you haven't joined yet then shame on you and do so now!). With the idea of having messages of 150 characters or less, millions of people like to use Twitter because you can gain information about anything or anyone fast and easy. Have a look under the Social Media tab for further ways to optimize your Twitter account.
Facebook
The problem with Facebook is that if you truly want to interact at the same level as you do on Twitter, you need to add everyone as a friend. It is fine with a Facebook page but it is more difficult for you to interact. Therefore, I would recommend that you mention who is the mastermind behind your campaign and idea and possibly link the Facebook page to your Twitter profile. If you want people to interact with you, choose Twitter. If you want to gain publicity that you are letting people interact you, use Facebook.
LinkedIn
It is of vital importance to include LinkedIn as one of your social media websites you sign up with. As well as benefiting your working career, it gives people the opportunity to see your skills and a history and portfolio of what you have done over the years. You don't tend to interact on LinkedIn so it is worth linking to your Twitter account.
For this reason, if you haven't signed up for LinkedIn already, do so now! I can't stress enough how beneficial LinkedIn is to your online and working career.
Google+
Google+, if it was introduced by Google five years ago would have been a huge success. The problem is that its just come to late to make any real impact against Facebook and Twitter. People are reluctant to sign up and use Google+ because it means yet another social media website to use.
I would choose to sign up with Google+ but stick with Twitter, Facebook and LinkedIn. Just because you don't use a social media site doesn't mean you shouldn't set up a profile with them. Remember that you want to gain as much publicity through social media as possible to make people aware of who made your PPC campaign(s). To do this, spread your wings and expand your social media network.