The last PPC campaign I analysed in the 'Analyse A Real PPC Campaign' series was from Festive Lights, who had interestingly two search adverts for the same keyword, which is a very clever way of increasing the CTR to a specific landing page without drastically increasing the cost (although the CPC will increase slightly as only one advert can ever be clicked on at a time).
A typical present for the holiday season, in terms of technology, tends to be the latest and greatest laptops. With this, here is an analysis of a PPC campaign from Microsoft, promoting the latest Windows 10 PCs.
To view Microsoft's search advert, I had to type into Google search UK, 'buy laptop':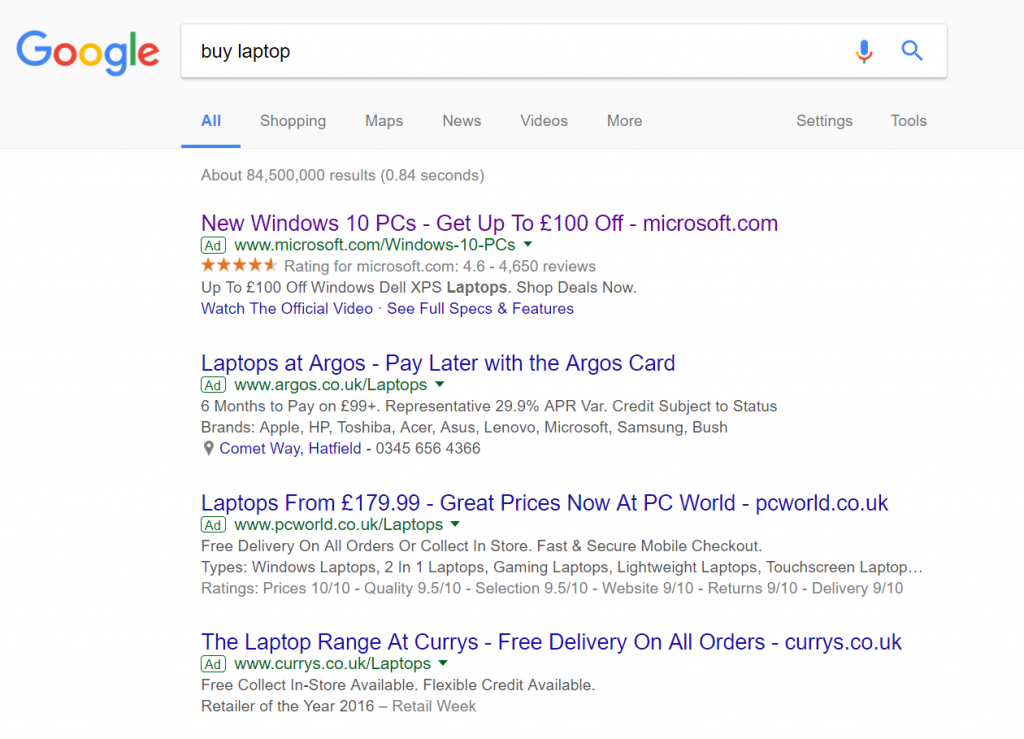 The competition for such a search phrase is evidently high with the maximum of four adverts appearing in the paid search results area. Considering Microsoft do not rank on the first page of results organically, it also makes sense for them to create a PPC campaign for such a search phrase.
The interesting part of this is that every single link relates to a laptop that runs Windows 10. Therefore, what is the reason for creating a search advert at all – if they create an advert, they promote Windows 10 laptops. If they don't, still, Windows 10 laptops are promoted.
Looking at the advert itself, Microsoft have used two ad extensions, being the rating and site link extension), which work well at providing more content without cluttering it too much. On top of this, the inclusion of '£100 off' in the title helps to address price sensitive customers, who will be looking for a deal this holiday season. Accompany this with the URL at the end of the title to promote direct traffic and a call to action at the end of the description, 'Shop Deals Now', and this can be considered a well created PPC search advert.
After clicking on the above advert, I came to the following landing page:
After landing onto this page, the reasons behind Microsoft making this PPC campaign are made clear:
To promote Microsoft Edge. Microsoft produced a web browser optimized for Windows 10, for which they want as many people to download and use. With this, the top notification menu promotes Microsoft Edge.
Promote the best Windows 10 laptops. If Microsoft did not have a PPC campaign, they lack the control to point web users towards the best laptops that use Windows 10. This landing page promotes the Dell XPS 13, for which many rave as one of the best Windows 10 laptop, increasing the positive brand awareness of Microsoft and Windows 10 laptops.
To promote all the products from Microsoft. Microsoft has a brilliant navigation menu that expands upon hovering, allowing web users to explore the range of products and software Microsoft have on offer.