The last PPC campaign I analysed in the 'Analyse A Real PPC Campaign' was from HSBC, who had an effective search advert, crucially ranking #1 of paid search results, considering there was a 'People also search for' box just below it. However, the landing page was a little disappointing, with areas that it could have improved on.
One sector that will always gain a healthy level of competition in PPC is the furniture industry: especially from the fact that a conversion can often be worth thousands. With this, here is an analysis of a PPC campaign from Marks and Spencer.
To view Marks and Spencer's PPC search advert, I had to type into Google search UK, 'buy furniture':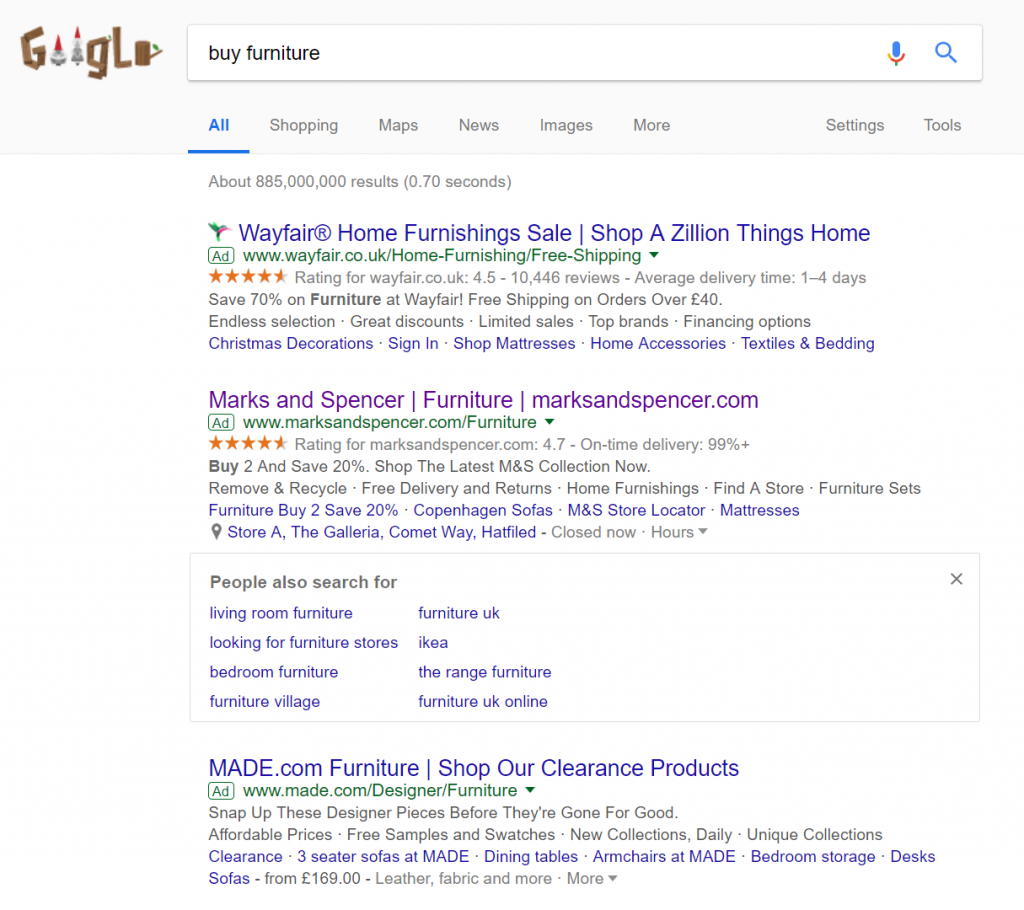 Three adverts of the maximum four appear for paid search results. What is different about these results, though, is the addition of a 'People also searched for' box, making the the two top positions gain more exposure than the third, which has been consequently pushed down the page. Such a box makes it more crucial to rank as high as possible in PPC, which will induce a bidding war amongst competitors – something Google won't mind happening.
Looking at Marks and Spencer's advert, it is well optimised for the following reasons:
The title is effective at spreading the brand awareness of Marks and Spencer, attracting direct traffic, as well as addressing what the web user searched for.
Considering the fact Wayfair used the ratings extension, it was clever for Marks and Spencer to do the same, since their rating is 0.2 higher than that of Wayfair, making M&S more appealing to the competition.
The description and remaining ad extensions are packed with information and links for the web user to click onto, helping to increase the CTR of the advert.
The use of multiple ad extensions will increase the size of M&S's advert, increasing the exposure level of it further.
After clicking on the above advert, I came to the following landing page:

There are both good and bad points to this landing page, outlined below:
The navigation menu makes it possible for the web user to explore any part of Marks and Spencer's website, although it does not expand upon hovering.
The central area of the landing page is taking up with images of furniture and a discount, helping to entice web users into buying furniture with M&S.
However, the landing page is quite bland in its theme, with only minimal colours used.
As well as this, there is a lot of text on the landing page and not much content. The extra long navigation menu and sidebar clutters the page a bit.
It would have been more beneficial to reduce the text on this landing page and increase the area that the image takes up, such as a living room with furniture all from Marks and Spencer.