The last PPC campaign I analysed in the 'Analyse A Real PPC Campaign' was from American Express, who had ranked highest for a very competitive keyword search phrase, whilst adopting a landing page that was evaluated at having both pros and cons associated to it.
Summer is just around the corner which means, for those that are looking for a summer break, there will be people looking to book summer holidays, potentially looking at what deals there are online. With this, here is an analysis of a PPC campaign from Jet2holidays.
To view Jet2holidays' PPC search advert, I had to type into Google search UK, 'summer holiday deals':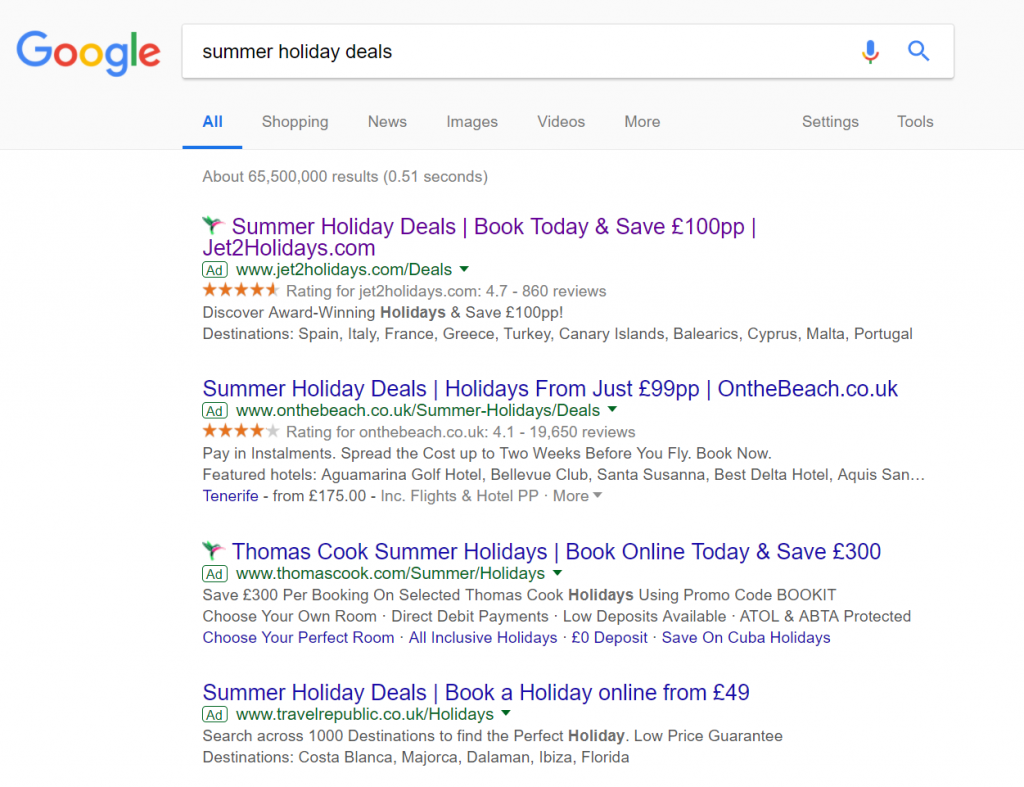 Competition for this search phrase is high with the maximum of four adverts appearing in paid search results. Jet2holidays are ranked 10th organically, providing scope as to why they felt the need to create a PPC campaign: to compete better against competitors rather than ranking organically 10th only. This could be the reason why they are also rank 1st for paid search results: to gain as much traffic as possible to compensate for the poor organic ranking.
Looking at the advert itself, it uses the ratings extension to add some confidence to the web user as well as making clear of the saving one can have using Jet2holidays. The use of listing destinations in the second line of the description is an effective way to make clear of the many destinations for holidays that is possible through Jet2holidays.
After clicking on the above advert, I came to the following landing page:
Straight away, it is clear that this landing page is a lead capture landing page: a variation of two different types of lead capture landing pages:
The pop-up is the first lead capture, to get the email address to send summer holiday deals to the web user's inbox.
Once the pop-up is closed, the second lead capture is the landing page itself, which allows the web user to search for a holiday based on:

Departure airport
Destination
Leaving date
Number of nights
Number of guests
Pop-ups are quite notorious on the internet, so it is definitely interesting that Jet2holidays chose to go straight for a pop-up for their landing page. Nevertheless, it can be easily closed to show the main landing page, which features a white sand beach with a couple running into the water. Typically, images can portray a thousand words and this saying definitely applies here. Such an image evokes an emotion with the web user that is to want to go on holiday – this can be done through Jet2holidays. Therefore, the enticement to fill out the form (lead capture) to see the holidays and deals available from Jet2holidays comes in the form of wanting to be the people in the image.