With many bloggers wanting to find new ways to monetize their websites, Infolinks and in-text advertising has become the perfect solution: mainly due to the fact that Infolinks can work alongside Google Adsense, making it accessible to just about everyone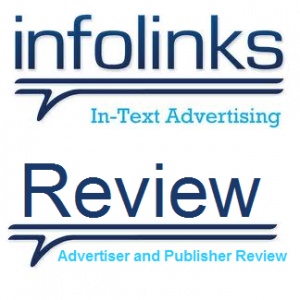 blogger and publisher. Infolinks has a new take to PPC. Instead of using the tradition banner space to place adverts, they use the content itself and place the adverts within links. Infolinks is regarded a great way to make money while using other PPC programs such as Adsense :that is if you have the traffic. From an advertiser's perspective, it is a cheaper and more effective solution to the most used PPC program, Google AdWords.
This review will be split into two sections,  Publisher and Advertiser.
Publisher
I saw Infolinks links on a website I once looked at and immediately became curious. I wanted to know if it could make as much money as other PPC programs and whether I should use it on my website, Ask Will Online. Therefore, I started using it and here is my opinion of Infolinks from the perspective of a publisher:
The CTR is consistently high – you are going to be guaranteed clicks no matter how much traffic you have.
The CPC is consistently low – this has put me off in-text advertising all together. You will be lucky if you get a click worth 9 cent.
People will start to dis-trust your links – if people start clicking on in-text links, they will be scared in future to click on your site's links thinking it will be another advert.
High traffic will make you money – You cannot have just hundred of views a day to make money from Infolinks. You need thousands to start making as much money Adsense does.
Control the number of links on your site – to stop you bombarding your readers with countless amount of Infolinks, you can control the amount to be shown in one paragraph from 1 to 9 links.
Creates space for your blog – if you start to use Infolinks as an alternative to Adsense, it will free up the space the Adsense adverts once took up.
You can see an article I done called, 'Is Infolinks Good For Your Blog' which is a few reasons why I think Infolinks is not healthy for your blog to have on it.
Advertiser
As an advertiser, I generally have been very impressed with Infolinks. Here are the main features and things I liked about Infolinks:
The low CPC – Compare the cost per click to AdWords which could easily go over a dollar, having such a low CPC means you gain get more traffic for your money.
Precision of targeting – Infolinks claim to have over 40,000 websites using them. This gives your adverts freedom to be displayed on the websites you want to target most.
Campaigns similar to AdWords – this is self explanatory. Having a campaign structure similar to AdWords means you can learn to make a success of Infolinks quicker and also have the high level of customization to make your campaign perfect.
Contextual – Infolinks is not a cheap alternative where they place adverts on any webpage that uses Infolinks. They use contextual skills just like Adsense and AdWords to place together the right adverts on the right websites.
Overall, I feel that as a publisher or advertiser, you should try them out. In-text advertising has taken a different approach to PPC providing an increase in results at a decreased price. If you do try out in-text advertising, go for Infolinks. They are effectively the 'Adsense' of in-text and with  the lowest load time for their JavaScript compared to others such as Kontera – it will have the most insignificant effect to your blog's loading speed.