One of the best ways to learn how to do effective pay per click marketing is by keeping a close eye on how some of the most successful companies on the internet are promoting their business.
When it comes to web hosting and site building, there aren't many other niches that are quite as competitive and costly.
Wix.com is one of the largest and most successful companies online for web hosting and site building.
As mentioned, with such competition and high payouts for affiliate programs in the web hosting niche, you would need to have a hefty advertising budget to be able to compete in this space… and this is exactly what Wix.com has done to place themselves among the most elite hosting and site building services on the internet.
If you search for any "free template" or "site building" keywords, there is a good chance that you will see Wix.com within the top results. By being at the top of the search ranking, this allows Wix to have a massive traffic turn over rate and brings them new users on a daily basis, while growing their brand and name in the process.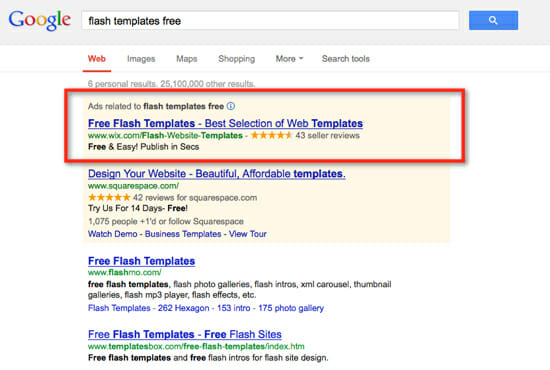 It's not just about being seen at the top of the search results that works for Wix, it's also all about split testing. Wix has done all of the necessary research and split testing to make sure that they are always connecting with the right audience and the wording they use.
If someone searches for "free flash templates", you wouldn't want to show them an advertisement for "free html templates" or something basic. One of the contributing factors behind Wix's success is their ability to create a massive amount of ad copies for each of their specific keyword sets.
Lastly, it's all about diversity for Wix. We already talked about how they appear at the top of the search results for many terms, and how they have unique ad creatives based on the keywords they choose to rank for. Now let's take a glance at how many and which keywords Wix is ranking for.
In the chart below you will see that Wix has several #1 rankings for some very powerful search terms. Based on all of their keywords (22k+) and rankings, it's estimated that Wix is spending over $7k per day on pay per click advertising alone. A feat which many of us strive to achieve.
Even more important than the overall ad spend is being able to convert your users on a daily basis. It's all a numbers game for Wix and they must continue to drive sign ups to their site and convert a specific amount of users onto their premium services.
When it comes to Wix landing pages and sign up process, simplicity is king!
Take a look at the main page of the Wix web site. There are no distractions, you see excellent examples of the features and what can be done with their service, along with a big "START NOW" button right in the center of the page.
All of these methods combine creates a powerful pay per click marketing campaign and business model, which continues to make Wix.com one of the largest site building and hosting services on the internet today.