Remember the days before the internet and we had to buy products and services just based off what commercials and the packaging told us? Now things are completely different and the internet has quickly changed how people do online reviews and purchase products and services around the world.
The funny thing is, many people will gladly leave comments and reviews about products without getting compensated for their time… just to let others truly know how they feel about a product or service. Going off this same concept, Ukritic was created to build an excellent resource for reviews and customer feedback, but they also wanted to reward to consumer in the process. Now every day people can share their opinions and write about products and services they currently use and own, while getting paid in the process!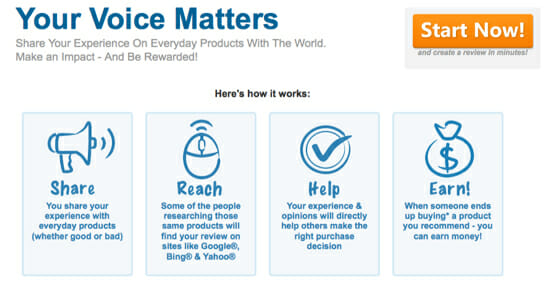 Ukritic gets to build up their content and build a powerful resource for consumers, while people who take the time to leave quality reviews get compensated for their time.
How Ukritic's User Reviews Works
Everyone knows that product review sites are an amazing way to build up real content, market products and build a long term business. This is exactly what Ukritic was aiming for when they created their site. At the same time they are also providing a place where people can leave quality feedback for as many products as they like, while also earning a few dollars in the process. In the long run, Ukritic continually is updated with new content and their users become loyal fans and builders of the site who keep coming back.
Based on how consumer reviews perform, the commission and earnings will vary. If someone else up writing a review that ranks extremely well in the search results and ends up pulling in a bunch of sales, the person who wrote the review would continually earn commissions for months to come as long as sales keep being generated. Review pages are also loaded up with links to Amazon.com and other affiliate outlets, which makes it easy for all referred sales to be tracked and properly credited to the reviewers account.
Visit the learn more page at Ukritic to see a full break down and learning tools of how to make the most out of their site.
Ukritic is a Powerful Tool for Affiliate Marketers As Well
Just like customers like to leave feedback and reviews for products, it's also an excellent ways to online marketers to promote and sell products of their own, or through affiliate marketing. Many content generation hubs have been used to promote products and services online for years now. The success lies in creating quality niche content on well established sites that rank well and bring in real search traffic.
You can watch the video below to get a detailed walk through of how Ukritic can be used by affiliate marketers.
Get Started with Ukritic Today
As you can see, Ukritic is quite a powerful tool and resource for not only reviews and content, but also for revenue generation. Whether you are a parent at home who is just looking to write some reviews from home, or a trained affiliate marketer who understands the power of review marketing, Ukritic is a site you must try out.