The last PPC campaign I analysed in the 'Analyse A Real PPC Campaign' series was from Hollister, who had bid for their own brand name to create a search advert that promoted something different to the organic search result in SERPs. Although the landing page was the same as the homepage, the search advert made clear of new products, designs and discounts that the organic result could never do.
A popular market that seems to be doing well is the online florist, commonly with deliveries that are the next day, or even the same day. With this, here is an analysis of a PPC campaign from eflorist.
To view eflorist's PPC search advert, I had to type into Google search UK, 'buy flowers':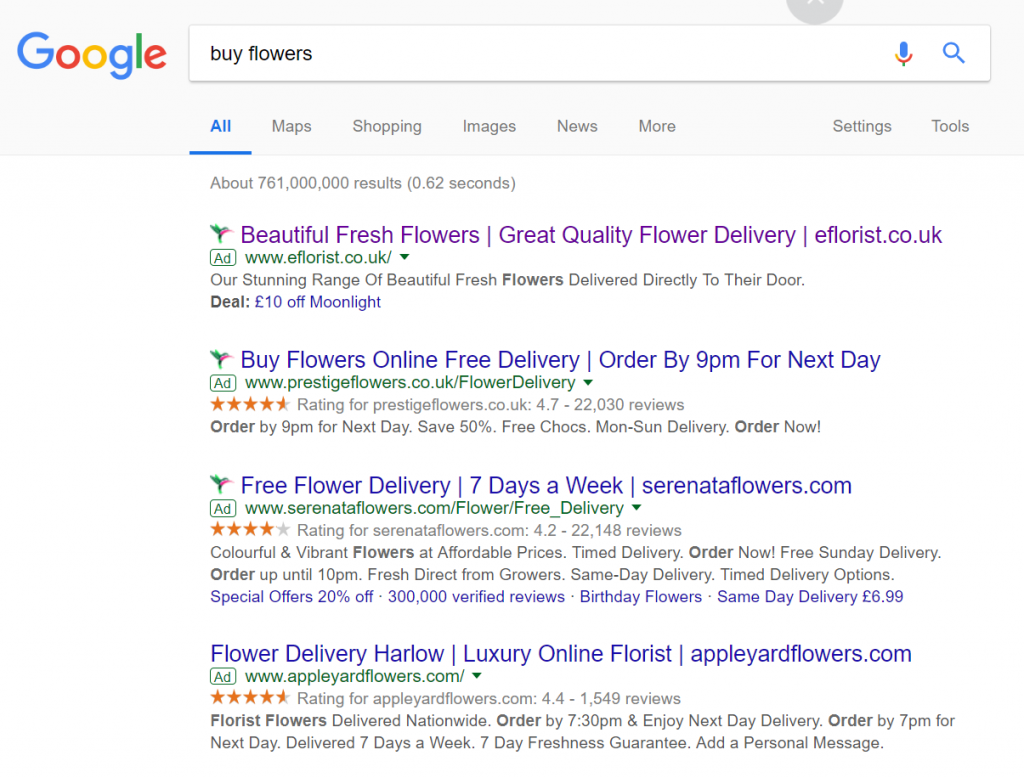 Straight away, it is clear this is an extremely competitive search phrase, with the maximum of four adverts appearing. eflorist rank 8th organically, providing plenty of reason to make a PPC campaign for this search phrase. Their quality score will be high too, considering they have ranked #1 of paid search (be it with, most likely, a high CPC).
Looking at the advert itself, it's interesting that they have not used any ad extensions such as the ratings extension. The organic result for eflorist puts emphasis on same day delivery, which is a unique selling point that puts them apart from the competition. For this reason, I feel this advert is a bit too simplistic and could have better promoted eflorist. The ratings extension would have been a good ad extension to use, as well as a site link extension illustrating the different types of flowers you could buy (for weddings, anniversary etc.). Most importantly, if you have a USP, make clear of it!
After clicking on the above advert, I came to the following landing page:
This is an example of a click through landing page. The main image of the flowers and reasons to shop with eflorist (to the right) is one large image that can be clicked on. In general, this is an effective landing page for the following reasons:
For a florist online, it is important to show off the products you have on offer, since people buy flowers for how they look. eflorist have done this by illustrating a good selection of flowers they have on offer.
The navigation expands when hovering on the options, allowing the web user to browse any part of the website from this landing page alone.
The design of the landing page has a hint of purple, which is a good colour to use for a florist. Purple is commonly associated with wealth and quality, making it the perfect colour to hint at for a florist.
Although the search advert doesn't mention eflorist's USP, the landing page does in the top right (that there is same day delivery available if ordered before 3pm).