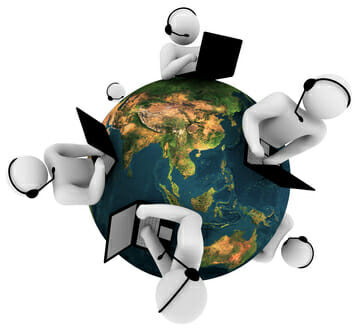 Almost everyone knows about the 3 major search engines. Google, Yahoo and Bing. Among all these 3 search engines, the most popular is Google as millions of people all over the world use Google every day to find the information they want. However, Yahoo and Bing are also two major search engines and are also used extensively. You might believe that the moment you've done SEO on your website, the website will spot perfectly on the 3 search engines' results WebPages in a quite consistent way. On the other hand, every search engine work in a different way, which means your website will be seen and analyzed in a different way by every search engine.
Search engines get the job done by dispatching web spiders, crawlers that stick to links from web page to web page and listing every site they discovered. When the website has been spidered, the search engine's algorithm criteria determine the position of your website in search results. Based upon the Search engine optimization techniques you implement on your website, the 3 search engines will position you in a different way. For instance, perhaps you find yourself high on Bing, but not at the top in Yahoo and Google. The technique is to recognize the variations and using that information to take the benefit.
All these three search engines have their own algorithms, which mean they analyze WebPages differently. The algorithms have different standards in determining the relevancy of any website according to the search results. It also depends on the keyword density and other factors such as back links a website has. All these three search engines have their own standards for ranking websites, if you know these standards; you can better employ SEO and can ultimately get high rankings.
Bing's algorithm looks to prefer a powerful thematic factor working through each web page of the site. It also seems to prefer websites with plenty of incoming back links, so your Search engine optimization tactics should indicate that when striving to entice Bing rankings. To build your theme, ensure that your major key terms are on each and every page of your website. Gaining Bing search rankings is excellent for newer websites, because Bing doesn't appear to punish them, compared to big G.
Yahoo and Bing SEO are somewhat similar as both depend on keywords and inbound links for ranking any website. You should search your keywords which you want to rank, create the content based on those keywords. In addition, maintain a specific keyword's density by using keywords properly in your content.
Google is the most used search engine all over the world so, everyone wants to know how to optimize website for Google so it comes in top 10 results.  To optimize your site for Google, do all that you did for Yahoo and Bing. But keep in mind never over do anything as Google will put you in the sandbox. Sandbox is actually a penalty imposed by Google on website for over doing SEO.
By setting up your website's Search engine optimization in accordance with the benchmarks of Bing, Yahoo!, and Google, you will probably get the focus of much more visitors and ultimately, more sales.
John Rampton is a PPC Entrepreneur, Author, Founder at Due a finance company helping small business owners. Follow me on Twitter @johnrampton