It's true that most advertisers online use pay per click to advertise. However, there are alternatives such as CPM, PPV and of course, banner advertising. In this article, I will have a look at the most used banner advertising program: BuySellAds. With over 6,000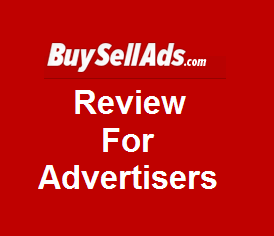 advertisers and 2,900+ publishers, BuySellAds have an extremely healthy market for buying and selling adverts. The question I hear asked many times is 'Should I use them?' Hopefully, after this review, you will have a clear answer to that question.
Firstly, let me explain how BuySellAds works. It does not follow the same principles of PPC programs such as AdWords but runs adverts on monthly viewings for a fixed price. You pay a fixed amount which ranges from $10 onwards and from that you gain the ad space you bought. You don't get charged for extra clicks on your advert.
You don't get charged for extra clicks on your advert
This is an extremely important point for those that don't want to use PPC. The ability to budget with fixed costs amounts makes banner advertising very appealing to many advertisers. In fact, it is very appealing to more than 6,000 advertisers on BuySellAds! Anyway, here are the main features be it pros or cons to BuySellAds:
The Level of Advertisers and Publishers
This is the main bonus for anyone that wants to use BuySellAds. Without the advertisers and publishers, there is nothing. However, the strong amount makes publishers produce competitive prices for their adverts which lowers the cost for you. As well as that, you know BuySellAds is safe from the way other adverts have likely other advertisers have bought the same advert you have bought. There are many alternatives to BuySellAds that I believe are better such as Ad Taily. However, they have a minor amount of advertisers and publishers compared to BuySellAds. See BuySellAds of banner advertising like Google AdWords and Adsense is to PPC.
Easy to Use Interface
I have said this in my Ad Dynamo Review already. One disadvantage of AdWords and Adsense is that the accounts are not linked at all. They are completely separate. However, with BuySellAds, your advertiser and publisher account are completely linked in an easy to use interface. Why does Google think advertisers are not publishers as well and vice versa? Even so, the layout of BuySellAds is clear with a nice red as the main colour.
No Guaranteed Results
I conducted an experiment with BuySellAds to see how successful adverts actually are on the banner advertising program. I bought a few 125×125 adverts that gained 100,000+ impressions a month. The first advert got a CTR of 0.03%, second got 0.01% and the last advert that had 143,906 impressions had such little clicks, BuySellAds didn't even record it as a 0.01%. I guess its my fault for choosing the wrong websites. My point to make is to be extremely careful what websites you buy adverts from as even if they gain good traffic, they still may have a terrible conversion. Here is what BuySellAds say about their Publisher and Advertiser accounts:
Publisher
Quick and painless – Once your site is approved, you can be up and running in minutes.
Increased efficiency – We'll make you more efficient, freeing you up to create new content.
Make more money – You get 75% of total sales. We work as your sales team to help you sell more ads.
Advertiser
Real-time Stats – Manage your ads 24/7, and get historical reporting and recommendations.
Super-easy / efficient – No more back and forth with publishers. Take your ads live within minutes.
Fully transparent – Ads are sold at fixed 30-day rates. And you choose the websites to advertise on.
It is clear that BuySellAds is a good program to use to advertise with. The pros definitely outweigh the negatives. My only advice is to watch who's website you advertise on. If you get the wrong website to advertise on, you will find your money will be wasted!