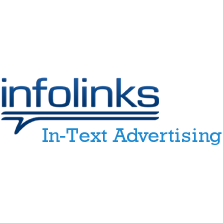 If you are looking for great way that is a little different then banner advertising is "In-Text Advertising", which replaces normal text on your web site with in page hover advertisements.  InfoLinks is a great way to get a lot of cheap clicks to your very targeted keywords.  With their easy to use marketplace you can have ads running to your website in a matter of 2 minutes.
If you have no clue what InfoLinks is, it's a  type of advertisements found on sites like BloggingTips.  When you go to Blogging Tips website you will see whats looks like an average link in the middle of a post, except they are in green font and double underlined.When you put your mouse over the link it will appear like the picture to the right. You see in the picture that the text link was talking about "car insurance". You can learn all about this by clicking on the  "learn more" on the advertisment.  This is a great way to get your brand out there a lot more on sites that don't have Google Display Network ads on them.
There are millions of sites out there that have a InfoLinks ads installed on their site. InfoLinks gets over 250 billion impressions per month. They have an InfoLinks market place where you can create your own ads and have them running in a matter of less than 2 minutes.  You don't have to have a huge deposit or prepay to get started.   You can even have a minimum daily budget for ad campaigns under $2 per day.  This will help you to get things going and start getting traffic to your website.
Here's a quick look into what InfoLink's new self serve platform has to offer:
User Friendly – Create an In-Text advertising campaign in minutes
Keyword Selection -Select and own your branded keywords across the Web
Keyword Bidding – Segment your geographic and vertical market budgeting
Advanced Optimization – Customize your reach and maximize ROI
Real-Time Reporting – Monitor and continuously improve your brand lift
I setup a small test account to see what these guys were all about.  I wanted to see if they were legit and could bring me real traffic.  I created an ad campaign basically to see what would happen and see if we could get results. I set the cost per click at $.02 per click, and targeted high end words like "ppc, ppc tips, ppc management". After starting my account ($10/day, I wanted a bunch of clicks) I saw that I was indeed getting clicks for $.02 per click on the keywords that I had put up. I wasn't getting $10 but I was getting a few.  Now that I've been stepping up my game I'm getting a lot more traffic.
If you are a Facebook Ads man, Plenty of Fish guru, or Google Display Network junky you should give these guys a try.  You won't regret it.  Try setting up a campaign to drive traffic to your PPC site and compare the results.  You won't be disappointed.  I'm sure you will get a lot of use out of this and like me start supplementing part of your PPC Display Network money towards this.
John Rampton is a PPC Entrepreneur, Author, Founder at Due a finance company helping small business owners. Follow me on Twitter @johnrampton