The last PPC campaign I analysed from the 'Analyse A Real PPC Campaign' series was from Microsoft for their software Excel. What we found was that Microsoft bid for their own brand name as, although the competition was looking to sell Excel, Microsoft's profit margin would increase by getting web users to buy from them direct. The problem stemmed with the landing page, which was bland and did not utilize the space well.
An area online that is going to continually pick up momentum is with digital downloads, such as music. Looking at this area, here is an analysis of a PPC campaign from Audio Jungle.
To view Audio Jungle's PPC search advert, I had to type into Google search UK, 'buy music':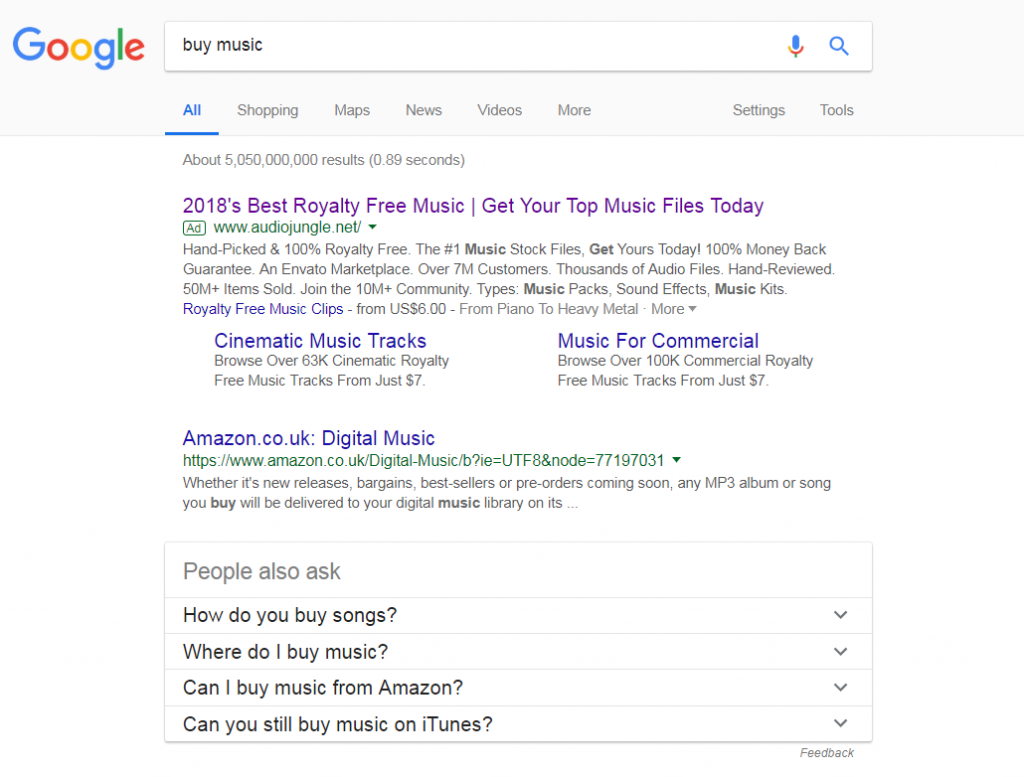 Audio Jungle is the only paid search result for this, most likely because either it is just too vague a keyword to target, or competition found it did not produce the best of results. In terms of Audio Jungle, it makes sense to bid for this keyword. They do not appear organically for quite a few pages, whilst the 'Royalty Free Music' is something that should attract many web users to clicking on their advert.
However, as much as it is sometimes good to have a large space for an advert, using site link extensions, other ad extensions etc. it doesn't entirely work for this advert. This is mainly because the description is so packed full with content already – it is something that would put web users off clicking, since the amount of content in this advert for a search results page is just a bit too much.
After clicking on the above advert, I came to the following landing page:
Straight away, this can be seen as a lead capture page from the main section being a search bar to find your favorite music. However, before noticing this, my eyes wandered to the top of the page with the pop down – the currency of the subscription is in dollars (where it should be sterling), highlighting a significant point that PPC advertisers should be aware of when cross-targeting different countries with different currencies. Having a landing page in one currency and the targeted traffic using another currency can have detrimental effects to the performance of the conversion rate of a landing page. Web users do not like to pay for things in a different currency to what they use natively because:
It makes clear the service or product was not primarily intended for use in the country of the web user
The web user has to manually convert the currency to work out in their head how expensive it actually is
Paying in different currencies tend to bring foreign exchange rate fees, which can make something that looks good value for money expensive
These comments can be eradicated by making sure the currency matches the country you are targeting – a simple tip to remember that can really make or break a campaign.