Everyone is always focusing on their SEO, as they should be… it's the difference between ranking in the search engines and not. The days of buying links and hoping for the best are over. Google is constantly changing up their algorithms and the way they rank web site, and so are the concepts of SEO software. SEO PowerSuite is a premium package that built up of four quality SEO scripts; rank tracker, website auditor, seo spyglass and linkassistant. Let's take a deeper look at each of the components that make up SEO PowerSuite, and what they can do for your web sites.
Rank Tracker
The first sub-program in SEO PowerSuite, is the Rank Tracker, which shows where your web site is ranking among various search engines. Search for any of your desired keywords, or find the most relevant and top ranked keywords.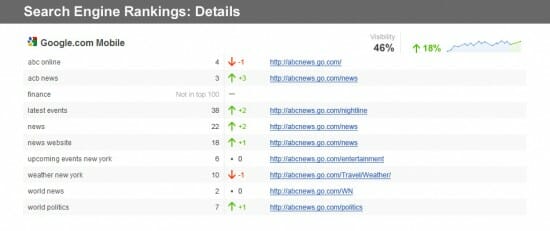 One of the improvements on Rank Tracker, is that it's now visually more appealing and easier on the eyes. Pull up a keyword report and you will find where your web site is ranking, all associated keywords and any changes in your keyword rankings since your last report. The "visibility" in the top right corner will also give you a quick glance at your overall visibility and gives an idea of your competition and market you can still be missing out on. Refer back to the main Rank Tracker workspace and you will be able to generate full reports on the historical progress of their web site and associated keywords.
SEO SpyGlass
The second tool in the SEO PowerSuite package, is SEO Spyglass, which is a fully loaded backlink checker. In the screenshot below you can see the newly revamped backlinks reports, which allows for easier navigation and reporting.
Now with the addition of simple pie graphs, the ability to quickly glance of your reports and get an idea of where you are getting your main backlinks is easier than ever, along with what backlinks are do-follow and non-follow. SEO SpyGlass will also provide full reports on what backlinks are text based or image based. It's also important to have access to the different types of TLDs linking back to your web site, along with anchor text… all of which are provided in SEO SpyGlass reports.
WebSite Auditor
WebSite Auditor is the third piece of software in the SEO PowerSuite package. Among the many different uses in this program, the main one is to check your keyword density and see how your web pages are performing. This includes such specific information as your title, body, H1 tags details
To mix things up, I wanted to show you how the report looks while working with the actual software. Just like we showed the fancy reports in the previous two softwares, you can pull these same types of reports using WebSite Auditor. In the screenshot above you can see a great deal of information, which is all sortable depending on your desired setting and preference.
LinkAssistant
To finish off the four different programs that build SEO PowerSuite, let's cover the LinkAssistant and the key perks of using the software, along with it's ability to manage your link partners. This software is used as a link exchange tool which allows you to find potential and related web sites that might make for a good link trade. Another great feature of the software, is that it also tracks all posted links and makes sure that your link partners are still linking back to your web site.
Just like in the WebSite Auditor review, I am once again showing you a screenshot for the non-report version of this software. You can still pull up the fancy reports and blow your mind with their dazzling charts and easy to read reports. Key perks of using Link Assistant, is it's ability to manage your link partners, which includes their names, email addresses, verification status, and more.
A Better Way to Manage SEO and SEO Reports
SEO PowerSuite has been one of the top players in the SEO optimization and management market for some time now. To see them continually update their software and make improvements across the board is always a great sign. The new reports from SEO PowerSuite not only make it easier for their users, but also improves reporting that you can provide to your customers if you are providing or serving SEO services to third party web sites.
There is a free version, as well as Professional ($249) and Enterprise ($599) licenses. Visit http://www.link-assistant.com/ to download your trial version of SEO PowerSuite.