It has been another crazy year for PPC advertising, with many improvements and areas of innovation for both advertisers and publishers. It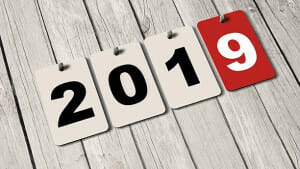 was only this year that Google released 'Auto Ads' for AdSense, to use machine learning to auto-optimize the placeholders of publisher adverts, similar to what Ezoic has been doing for a while.
Without further ado, here are some of the main trends we can expect to see for PPC in 2019.
Push Away From Keywords
Slowly but surely, we will start to see a push away from search phases as the driving factor for targeting traffic, since there are many other ways we can target a specific audience. Audience targeting will gain momentum in 2019, as it helps to improve the results of PPC campaigns by having more contextual traffic pointing to the designated landing pages.
Automation
We already have automation and machine learning embedded into PPC already – Google has automated bidding strategies in campaigns. What we can expect to see for 2019 is a further dominance of machine learning and automation for other areas of PPC. This could include the likes of the search advert and the landing page (just like Ezoic does with the layout tester –  machine learning with regards to the theme and design of a website).
More Ad Types and Extensions
The more ad types there are, the more adverts can fit and shape their way into search engine results and websites, making them look more and more native. The more native an advert looks, generally speaking, the higher the click through rate the advert will achieve. For this reason, expect Google to further develop more advert types.
As well as this, the same can be said for ad extensions. Ad extensions are a great way of adding that little bit extra to get a click or conversion from the search advert. It can save the web user time (since they do not have to visit your landing page to find a number or location of a store etc.). There is a great range of ad extensions  already out there for PPC advertisers to use. Even with this, we can expect there to be more to come. This is mainly due to emerging market causing there to be a need for more ad extensions.
Building a Brand
It is important to get quantifiable results in PPC. However, there are some metrics you simply cannot analyse in PPC which play a big part with your business and PPC campaign's success. Such an example comes with brand building/awareness. It is important to remember that a simply click to buy something through PPC will generate you one conversion. If you can build brand loyalty with PPC traffic, then the sky is the limit as to how many conversions you will get out of that consumer over time.