The thing about looking at articles online is that they usually go into quite a lot of detail when talking about pay per click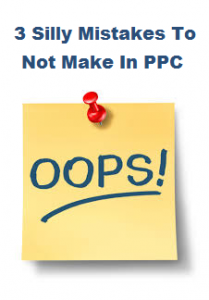 advertising. I already have nearly 450 articles alone on PPC.org and, just think about it, PPC is only about gaining a click from a web user in search engine results and publisher websites and sending them to a designated landing page. For this reason, I thought it would be a good idea to do a basic article that covers the silliest mistakes advertisers may still be making in PPC. After all, we are only human and the silliest mistakes can still somehow creep their way into our PPC campaigns. Here are three mistakes to not make in PPC.
A Faulty Landing Page
This might sound crazy but even some of the best campaigns around the world send paid PPC traffic to a error sign as a landing page. Obviously, this is not the landing page but an error on the landing page which the advertiser hasn't noticed or fix. This is extremely costly to the web user and has the potential to cause the web user to lose trust with you as a brand. A great example of this is with Seat (car manufacturer) who had a completely non-functional landing page.
Grammar Mistakes
The amount of times I find grammar mistakes in PPC adverts and landing pages is truly ridiculous. A grammatical error has the potential to turn a web user completely away from your campaign, as it shows a lack of proof reading and editing that has gone into the campaign: if you haven't found that grammar mistake, what else could be lurking around the campaign? It is a complete turn off for web users.
All in all, here are the main grammatical errors you should look out for in your campaign:
Typos
Incorrect use of capital letters for words
Punctuation errors
Incorrectly structured sentences
Failure to Not Analyse Landing Page Performance
It is an absolute must to install coding to analyse how successful your landing page is at keeping web users on the page and gaining conversions. For most advertisers, the best analytical program to use will be Google Analytics since it is free and it is Google (the majority of programs by Google are usually quite good and market leaders). For this reason, make sure you are tracking the statistics of your landing page and even setting your landing page targets to achieve. For example, you may have a high exit rate and the average time PPC traffic is on your page is relatively low. Therefore, you could make the objective to decrease the exit rate by 5% and increase the average time by 10 seconds within the next week.