There is a problem on the internet that many people still don't know what SEO or 'Search Engine Optimization' is. In simple terms, search engine optimization is a number of techniques which help to improve a website's ranking on organic search results. This, in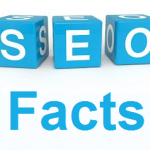 turn, will result in more web users seeing your website on search engines making it more likely to be clicked onto (meaning more traffic comes to your website). However, it is still a bit vague just exactly what SEO is. For this reason, I thought it would be useful provide a bullet point list of some useful facts about Search Engine Optimization so that you are able to understand it that bit better.
The main way people find anything on the internet is through search engines. This is why getting a higher organic ranking is important.
Around 70% of all the links web users click on are organic. Considering the amount of links there are that are not organic on the internet, that is quite a lot!
Every month, the whole world performs roughly 11 billion searched on search engines (and that is increasing!). You can now see why getting a high ranking on search results is important!
In 2010, Google and Bing admitted to also rank website by how sociable they are. Therefore, it is important to keep your website updated through social media too for better SEO.
Every now and then, Google updates it's algorithms so that websites with poor content and copy from other websites lose traffic due to a decrease page ranking. The Google Panda update (February 2011) made it clear that the content on websites should be completely original and benefit the web user be it to solve a problem, to inform them of something or to simply entertain them.
It is important to remember that websites that are not optimized for search engines will not appear on search engines. Therefore, they will not be found.
Over 40% of internet users click the first search result to their keywords on search engines.
Around 70-80% of web users ignore the paid adverts and look down the page for the first organic search result.
After the Google Panda update, Google released another update entitled 'Penguin' in April 2012. This update made clear that you should not buy links or attempt to use any form of link building services as these are the websites that were hit bad. Only link to websites that you can trust and have good ranking.
Some people try to hide text on their website so that they can include more keywords to get a better search ranking. However, if search engines catch you doing this, you will be severely punished: even to the extent of being banned by the search engine.
The page rank number determines how healthy your website is to search engines. If you want to maintain or increase your page rank, you will need to keep posting fresh and quality new content. A lack of posting new content will result in your page rank to start declining.
Over 40% of web users tend to change their keyword search if they cannot find what they are looking for on the first page of results.