One of the best ways to make a name for yourself and bring your business to a whole new level is by attending trade shows, conferences and marketing events in your area. Last week I was speaking at BlogWorld Expo in New York and the Jacob Javitz Center and it was really great! In addition to meeting all of the people who travel across the world to get there, I'm also able to meet up with friends and many of my blog readers as well.
While speaking at the event I was on an excellent panel with Chris Garret, Syed Balkhi and John Rampton. We all prepared our own slides and talked about the importance of branding and put together quality content to build an authority site that keeps growing and keeps making money year after year. You can view my BlogWorld presentation slides to get an idea about what was discussed during the panel.
It was also a great surprise to meet up with the producer of The O'Reilly Factor from Fox News. This was the second time I've been on national television, as I was previously on ABC News back in 2010. It's always great to see media coverage while at these type of events.
The segment aired on Fox News on Monday and many bloggers were disappointed with the way Fox News portrayed the event and those who attended. You can watch the full segment on the Fox News web site to see for yourself.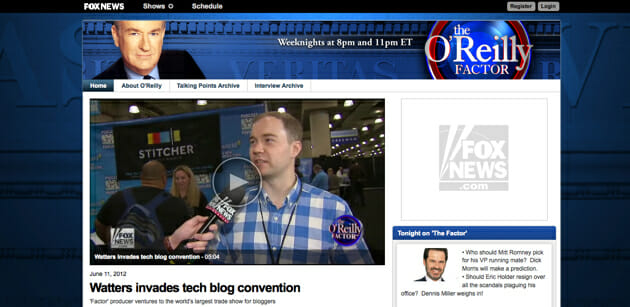 Even though the coverage BlogWorld got from Fox News may not have been what we were expecting, it was still great to see myself on national television and any exposure is also great for BlogWorld, as I am thrilled to see the event get larger year after year. If you miss the first live airing of the segment on Fox News, be sure to visit their web site and watch the full video. Once you get a chance to view it, feel free to send Bill O'Reilly an email at [email protected] and let him know what you think about their coverage and portrayal of BlogWorld.