It was around 7 months ago I started initially using pay per click as a way to advertise online. Like many other people who decided to use PPC, I had a few reasons why I wanted to use them. I had read so many articles why it is the way forward in online advertising. I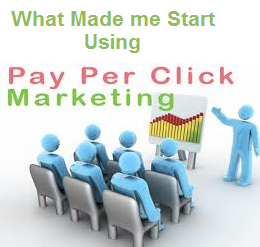 wanted to see if these articles were true and sure enough they were. Here are the main reasons that persuaded me to try out pay per click advertising and Google AdWords.
Curiosity
This was by far the biggest reason I chose to use/try out Google AdWords. Beforehand, I never heard of PPC and the 'pay per click' approach to advertising. I was intrigued at how it would work and if it would work. You just think the online form of advertising before that I knew on the internet was .  A form of advertisement where it works by the advertiser buying an advert for a fixed price for a fixed amount of time. Then PPC came along and introduced a variable price for however long you wanted.
Infinity
This will sound extremely weird if you don't understand where I'm coming from. I always see blogging and the internet as a never ending story (check out my About page and it may be clearer explained). You place an article on the internet and in theory, that article will stay on the internet forever. It's a daunting thought that the article you have just created in ten minutes may be on the internet for hundreds of years being viewed by thousands if not millions. I can relate PPC to this. The idea that there is nothing halting your campaign from going to infinity. Banner advertising like  is a halted form of advertising. You can only do so much. PPC is different though.  If you wanted to, you can make your PPC campaign last forever although it will be very expensive! Even so, I wanted to experience this freedom and control PPC offered.
Results
Before I tried PPC, I had heard of many stories how PPC advertising was producing shocking (in a good way shocking) results for advertisers. Before hand, a banner advert may have been getting the advertiser a CTR of 0.5%. PPC was then achieving CTRs in excess of 2%+. This is a huge difference for advertisers considering that PPC isn't just giving you any traffic but targeted traffic. Targeted traffic for half the price with increased analysis of your results, you really can't go wrong with PPC.
When I mean you really can't go wrong with PPC, you really can't. You don't have to be an expert to understand it. You don't have to have a huge budget. You don't have to spend much time creating a campaign. This is what makes PPC the best advertising form out there now. This is why I initially started using PPC.