Adsense has recently announced that it is their 10th birthday which is an astonishing achievement. For a PPC program to have been running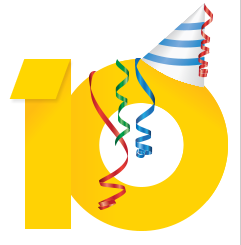 successful for ten years while technology and the internet is constantly changing is extremely difficult to obtain. Google have achieved that with Adsense. For this reason, I think it is just right to do an article explaining just why Adsense has been so successful  from a publisher that has been using Adsense for many years to monetize his website i.e. me.
It's Google
What will attract bloggers to Adsense before any other PPC program like Ad Dynamo is the fact that Adsense is run by the king of the internet. Google are no doubt the most influential company on the internet. Therefore, by using Adsense, you can be assured that you are in safe hands. Although, there have been problems and controversy over getting banned from Adsense for petite reasons, Google have rectified this as now, using the Google Publisher Toolbar, when publishers click on their own adverts, a pop-up appears giving them the facts and figures of that advertising unit. The reasons for getting an account banned are decreasing.
RPM Is High
How do you judge the success of a PPC campaign? For most publishers, including me, I rank the success of a PPC campaign on it's RPM . For PPC programs such as Media.net, I have struggled and struggled to gain a respective RPM from my adverts. My RPM for Media.net was around $2-4 which is okay, I guess, but not amazing. On the other hand, if I give you the RPM for my Adsense account yesterday, it was $8.73. That is huge. Publishers simply want to make as much money as possible. They want to gain as much money from the traffic they get without seeming 'spammy' or upsetting their traffic. Adsense provides just this.
Range Of Products Is Large
This is a huge benefit for those that have more than just a website. With other PPC programs, they are specific to just PPC. For Adsense, over the years, they have diversified advertising into mobiles, videos on YouTube and even games. The range of products Adsense has far exceeds any other PPC program out there. For a YouTuber, the only good way to maximise their revenue from YouTube is through Adsense. I guess this is why Google took over YouTube a few years ago so that they can introduce Adsense to it.
Choose Your Currency
This is a big problem with other programs. For me, I live in England and find it difficult to get payments in British Sterling Pounds. For example, Media.net and most other PPC programs are in dollars. Therefore, if I was to get a check, it would cost me extra money to convert it which reduces the total amount I get. With Adsense, they have currencies for just about every country out there. Therefore, Adsense is specific to your country.
Happy birthday Adsense. In ten years, you have helped million of million of publishers make money online from their content. I can safely say that the internet would not be the same without Adsense. Adsense has made the internet profitable.