Written by Maddie Klein
Social media platforms come in a variety of different formats in today's world. While it may be tempting to try and make your business stand out on every major platform, that's not a realistic goal. You'll end up being a jack of all trades and a master of none as the saying goes.
Today we'll look at the major platforms businesses are looking at, and how to decide which ones are right for you. Choosing the proper social media sites and focusing solely on them will give you the best chance of success.
Today's Social Media Sites (And Which Ones are Right For You)
You should start this process by creating a list of questions you can use to evaluate each platform. Here are some quick examples:
What makes this platform unique?
How does it cater to my business or niche?
Which type of audience uses this site?
How much time do I need to invest in this platform?
Asking these kinds of questions is a great start. Once you've chosen your hosting and started a blog or website, the next step is going to be promotion on social media.
Beyond this, you should also make sure you have a keen understanding of the platform as a whole and where it's going. So, with these questions in mind, let's look at today's top social media platforms.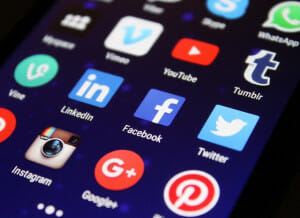 1. Facebook
Let's start with the biggest platform of them all: Facebook. Statistics show that there are over 1.65 billion monthly active users on the big FB. The website continues to grow and just about every business has some kind of presence here.
Should you be using Facebook? What makes Facebook Unique?
You can reach a wide range of people with a single post.
There is support for paid and targeted ads.
The potential for customer engagement is extremely high.
Every business should have a Facebook page as it represents a place to share personalized content, stories, and it allows customers to interact with the brand. If you need some inspiration on how to make yours, check out Inc.com's list of the 20 Best Company Facebook Pages.
2. Twitter
Twitter's style of microblogging seems like something that would be constraining, but it offers a way to quickly and efficiently boil down your message. The 140-character limit takes some getting used to, but the platform has quickly grown into a major player in the world of social media.
With over 500 million tweets per day, it's hard to imagine standing out from the crowd, but there are ways to do so.
So, what makes Twitter useful for your business?
It allows you to quickly post breaking news or new content.
There's a focus on dialogues and conversations.
Great for PR and building a brand through engagement.
Twitter is a great secondary platform, especially if you're using a social media management tool like Buffer to schedule tweets ahead of time. Much like Facebook, you can reach a wide audience on this platform, so that's what makes it a great secondary platform to use.
3. Google+
While there have been times that people considered Google+ to be dead and buried, those are the same kinds of people who assumed that Google+ was designed as a competitor for other platforms. Instead, it's more of a communication platform and a means to benefit your SEO.
It doesn't require the same level of maintenance as other platforms, but by promoting your content on it, you create visibility for your business in organic search results. There are numerous reasons to use Google+ for your business, but as a social platform it represents an optional, but beneficial platform for your business.
4. Pinterest/Instagram
These two platforms are both visual focused social media sites that cater to businesses that have a wealth of visual content to present to their users. Industries like food, fashion, luxury, or lifestyle are all great candidates for these visual platforms.
Let's take a look at what Instagram can offer first:
A way to visually represent your brand.
Allows you to use @ and # symbols like Twitter.
Welcomes both professional and candid photos alike.
Now, if we turn our gaze toward Pinterest, things are a little different. The focus is still on visuals, but with Pinterest the function is more of an online scrapbook than a visual platform. Boards are used to collect and showcase content instead of single images like Instagram.
Here's what Pinterest can offer you:
Generates leads and traffic by linking visuals to your site.
Visual promotion.
Entices Calls-to-Action
Specific categories allow you to target more niche audiences.
If your target demographic is primarily women, then you're in the right place with Pinterest. Over 80% of all the users on the platform are in fact women. In addition to this, Pinterest users tend to spend the most money as a result of purchasing decisions on the platform.
By building a board for your brand and targeting the right categories, you can get a lot of engagement and conversions from a platform like this.
Final Thoughts
Social media platforms come in plenty of shapes and sizes. What works for one business or industry won't necessarily work for another, however. Keep this in mind as you narrow down and ultimately decide which platform is right for you.
Thanks for reading and be sure to let us know which social platforms you prefer in the comments!