I was actually going to have the title of this article as, 'What A Perfect PPC Campaign Should Include'. However, you cannot make a perfect PPC campaign. You can make a really good one. But, it can never be perfect because there are always areas to improve with your PPC campaign.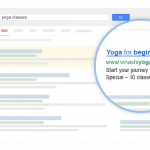 Putting this aside, I do believe that some of the best campaigns have key attributes which I will hopefully highlight below. This means, if you are not including any of the below into your campaign, you could possibly think about including it which will hopefully increase the success of your pay per click campaign.
Power Words
I have already mentioned power words a few times in some of my previous articles because they are so important to gaining a high CTR for your PPC text advert. Below are the main power words you can use in PPC:
You
Money
New
Save
Results
Easy
Health
Safety
Love
Free
Discovery
Proven
Guaranteed
You might think that I am talking rubbish and that power words are not used by the best PPC campaigns out there. Well, have a look at my 'Analyse A Real PPC Campaign' series. DKNY uses 'free' and 'new' from the list along with others such as 'receive' and 'explore'. Ford's PPC text advert uses 'you'. uses 'free', 'now' and 'newest'. Do not be scared to use power words in fear that you will make your advert sound 'spammy'. In essence  the biggest campaigns out there uses around 2-3 power words in their text advert. Therefore, to make sure your PPC campaign is just as good, try and use the same amount for your PPC text advert.
The Right Type Of Landing Page
If you have read any of my articles on landing pages, you might know what I am about to say. I strongly believe the landing page is the most important aspect of a PPC campaign because it is the last step to gaining a conversion: it is the make-or-break part of your campaign. For this reason, it is extremely important you know what type of landing page will be most successful for your campaign. To help you decide, if you are unsure, read '[How to] Choose The Right Landing Page For Your PPC Campaign [Part 1]' and '[Part 2].
A Section For Experimenting
You are not going to get anywhere far in PPC if you do not experiment. It is by far one of the most important aspect to PPC (along with the landing page of course!). Take a blogger for example that runs PPC Adsense adverts on their website. How would you suggest a way for the blogger to make more money from the Adsense adverts without having a traffic increase or any change to any significant variables? Experiment. The majority of websites will change ad sizes, colours, types and locations to make sure they get the highest CTR possible. The same applies to the advertising side to PPC. In order to make the most out of PPC from an advertiser's perspective, you need to experiment. Therefore, make sure you have reserved some of your budget for experimenting with – the results you gain from experimenting have the potential to make your campaign extremely successful.