The last PPC campaign I analysed in my 'Analyse A Real PPC Campaign' series was from Ski World, who had a search advert that seemed to be too specifically targeted to the keyword search phrase the campaign is targeting on search results. As well as this, the landing page appeared to have too much content on it, which would have increased the bounce rate.
With the internet seemingly increasing at an exponential rate, there will always be a market for internet providers to provide households internet services. With this, here is an analysis of a PPC campaign from Virgin Media.
To view Virgin Media's PPC search advert, I had to type into Google search UK, 'internet providers':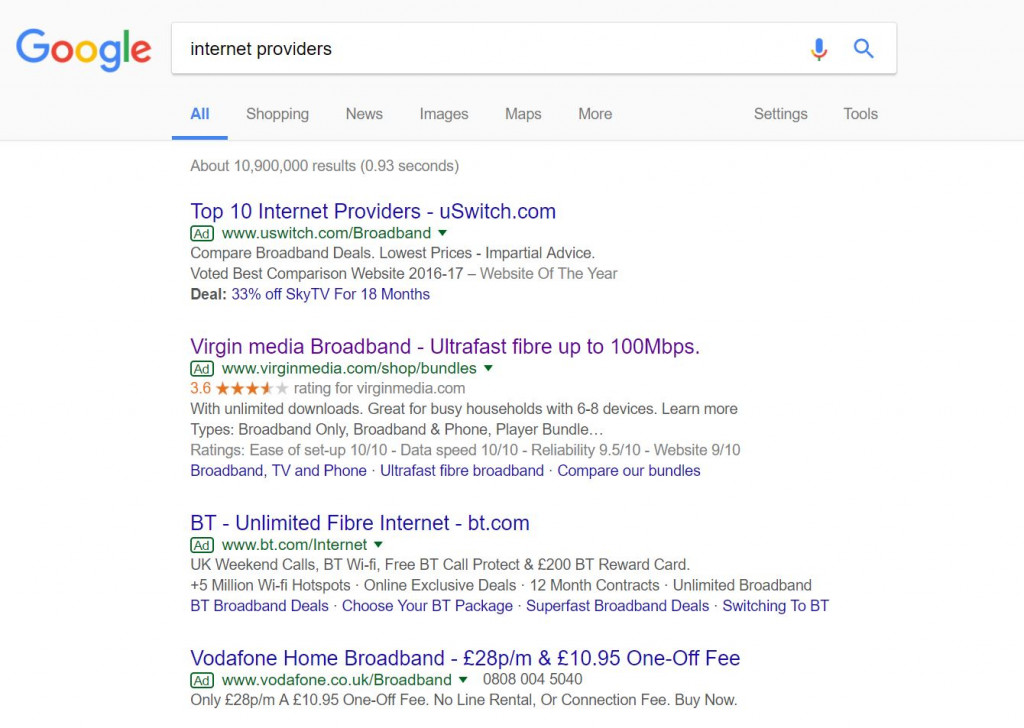 Straight away, it is evident that the competition for such a keyword search phrase is very high, considering the fact that the maximum number of adverts are appearing of four.
Looking at Virgin Media's advert, they have included their brand name in the title to raise their brand awareness. As well as this, it is clear that Virgin Media have opted to use many numbers, such as fibre optic speed, number of devices as well as ratings to solidify to the web user that it is worth clicking onto the advert.
Two ad extensions are used with this advert being the two variations of ratings extension as well as site link extensions. As well as providing more links to click on as well as illustrating the high value customers give Virgin Media as a internet service provider, the ad extensions also increase the advert's space, increasing the exposure the advert has with the web user.
After clicking on the above advert, I came to the following landing page:
The most striking part of this landing page, which works as hybrid between a product/service page and a click through page, is the colour red. Although the Virgin Media brand is already associated with red, it is effective to continue this theme with fibre optic internet speeds since red is commonly associated with urgency, which increases the sense of speed with the internet service from Virgin Media.
The navigation menu at the top expands upon hovering, which means the web user, if they so wish, can access any part of Virgin Media's website. As well as this, there are extra hover links around the edge of the screen, which allow the web user to contact live support or click a link to enter an interactive pop-out to help choose the best service from Virgin Media for them. This, all in all, will create a very good customer expereince between Virgin Media and the customer.
The rest of the landing page contains information about the fibre internet provided with Virgin Media. The content appearing just below the fold will encourage web users to scroll down and reveal the many wonders of why they should choose Virgin Media over competitors. On the whole, this is a very good PPC campaign.