One of the fastest growing trends in the world of blogging and link building, is the popular method of guest blogging. The purpose behind guest blogging is simple. All you need to do is write content for relevant blogs and when you content goes live on their site, you will receive a text link back to your site.
The problem with guest blogging is that it takes a lot of time and if you aren't a high quality writer, it may be hard to get your content accepted. Another major cost of guest blogging is the time it takes to find blogs that are accepting guest posts and still relevant to your content. On top of finding these blogs, you then need to contact their site owner to see if they will accept your post.
SheerSEO has created one of the most effective software packages for everything focused on seo and link building. In addition to creating full reports and in depth tracking of incoming links to your site, you can also automate the process of finding relevant blogs that you can post on.
Let's take a look at how this software can help increase your process and productivity.
In the screenshots below you will see how the software works. First, you define a blog offer, which contains all we need in order to find relevant blogs and send them your offer.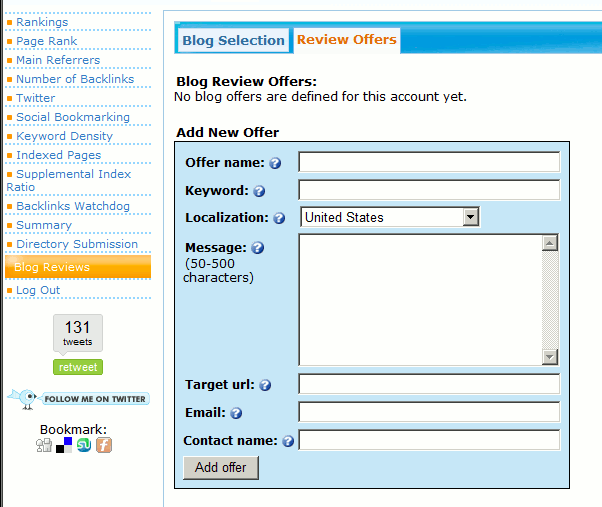 In the next screenshot, we show you the matching blogs found, with their PageRank and Alexa rank. You can then select the blogs you want to ask for a review, and by just pressing a button, you can send them your offer.
When you look at the screenshots, the process looks quite simple but once you multiply it by a bunch of sites, it really does save you a lot of time. If you are looking to better your seo, search rankings and speed up your guest blog posting, I would recommend you take a look at .