Ranking higher in the search engines is no easy tasks, especially with Google always changing their algorithm. Many web sites and companies have made it their mission to rank higher in the search rankings for keywords that will not only bring in new traffic and business to their site, but also protect their brand and reputation in the process.
While reputation management might seem like something only big corporations and high priority professionals might need to deal with, it's actually something all businesses, web sites and blogs can make use of.
Here's a good example…
If someone was to search for your name or company in Google, what would they find on the first page of results? If the first page isn't loaded up with your own sites and social networking profiles then you could be headed for some big trouble. Run through this check list to see what you can do to improve your first page results and keeping your brand name safe.
So how can you keep your keywords, branding and search results improved and always on top of their most recent movements?
Brand.com has created an awesome all in one package called the Command Center, which is made up of 10 different tools that allow you to focus on everything from social media outlets, monitoring the movement of your existing links and keywords, placing high value content across their news distribution  networks an also allowing your to track results and keep an eye on your competition.
You can view the infographic below for a quick glance of what the Command Center has to offer.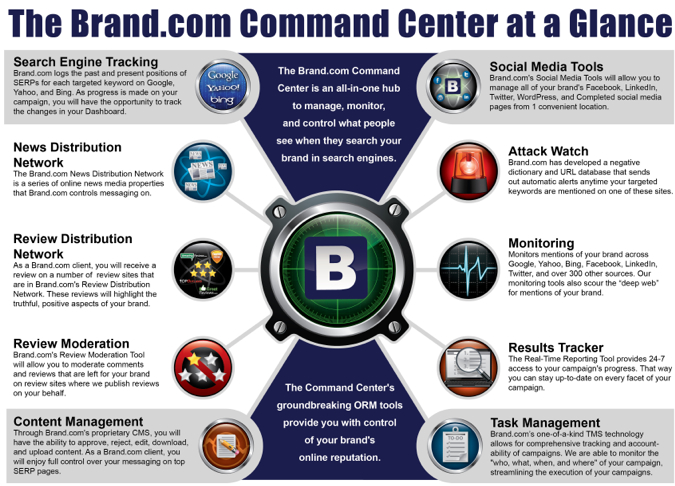 There are plenty of tools out there for monitoring search engine results, but many of them are limited in their reach or focused on improving your brand and reputation in the process. Using the Command Center you can plug in your desired keywords, personal or brand names and start tracking their movement and find new ways to improve your new and existing serps as well. Google is always going to be changing their algorithm, but having a solid content, link building and social networking growth plan will always work wonders for your site and business.