Pay per click and search engine marketing easily the most well known and effective ways to promote web sites and ad campaigns. What you promote through ppc marketing is up to you. Google doesn't approve all ppc ads, but the majority of sites will get through. Some stuff that Google doesn't like are long sales pages, gambling offers and scammy rebill offers to name a few. Even if Google doesn't approve the type of offers you might be interested in promoting, there are always Yahoo, Bing, 7 Search and a whole bunch of third tier search engines and directories to play around with. Sure, some of these smaller networks might not convert as well, but they also don't cost as much as Google. It's all about playing around with different campaigns and traffic sources to see what works best.
Using Content Locking with PPC Marketing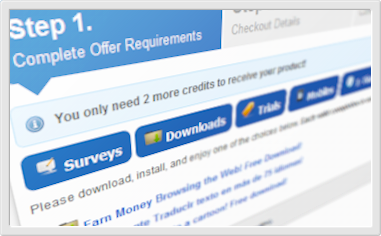 One creative way to take advantage of the smaller tier search engines is through the use of content locking and creating your own web sites or blogs. The concept of content locking is simple, and something that AdWork Media specializes in. Through the use of AdWork Media's content locking system, you can create an incentivized experience for your site visitors to access premium content. When someone visits a web site or blog with premium content, they will see a popup like window appear that will lock them out from using the site. The user will then have the option to complete a free trial offer such as an email submit, a short survey of download free software. In exchange for the user completing the free offer, they will gain access to the premium content, while the site owner earns a commission for the lead.
Getting Creative with Content Locking and Ad Campaigns
The difficult thing about content locking is coming up with content that is actually valuable for the user, while also staying legit and legal at the same time. Many web sites are now taking the time to create their own programs, games, reports and software to offer to their site visitors, then requiring them to use a content locking solution.
Something that worked extremely well in the past was creating sites that allowed people to watch television shows and movies online. Of course this didn't go over well with the legal departments for many shows, advertisers, networks and site owners.
To give you an idea of how well this could have worked, let's use the Google Keyword Tool to pull a report on "watch game of thrones". Every month there were millions of users who were looking for ways to watch game of thrones online. Now think about the volume you would see if you started to build out content locking sites for every popular show out there. Of course the majority of people that would arrive at your site would be more than willing to complete a quick offer or survey to watch a free episode online.
This post isn't to give you the idea to get into the copyright and legal messy world of content locking for television shows, but instead to give you the mind set that if you can create a quality service and product, there is plenty of money to be made in the content locking business.
Many people have problems creating ppc ad campaigns on search engines like 7Search because of the lower quality. However, with clicks at only a penny or two each, there is a lot of potential for success when it comes to content locking and low cost traffic.
Think about what type of product or service you could offer for free in exchange for someone completing a free trial offer or survey. Once you have a good idea, be sure to visit AdWork Media and they can set you up with their content locking solution.