When you think of making money online and digital products, you have to think about ClickBank.
Their service has been around for over a decade and has paid out over a billion dollars to their partners.
There really aren't many ad networks and market places out there that have had the same type of success and impact that ClickBank has had on the industry. Through it's easy to use interface and amazing collection of digital products, it's become one of the best resources for affiliate marketers to find niche specific offers that convert. One of the biggest reasons why affiliate marketers love ClickBank is that some of the products go up to a 75% payout in commissions!
Let's take a look at one of the top products right now on ClickBank that is doing well in the "tablet" and "ipad" niche!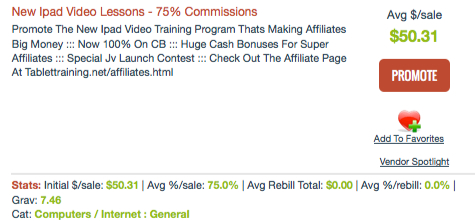 Right now more people are making the move to smart phones and tablets than ever before. With these changes comes a ton of people that need to learn how to use these devices as well.
That is the concept behind TabletTraining.net, which is the ClickBank product we are going to use in this example for how to plan out some pay per click marketing campaigns to promote the offer.
Just by pulling up a quick report with the Google Keyword Tool we can see that a ton of people are already searching for different ways to learn how to use their iPads and tablets. Many of the searches below also have a low competition rate, along with a decent amount of people searching for them on a monthly basis.
Now that we have a few ideas on what types of keywords and search phrases people are using, now we can look into a few different ways we can start to promote a ClickBank campaign focused on tablet training with pay per click marketing.
Creating Google Adwords Campaigns
One of the most successful and used ways to create pay per click ad campaigns is through the use of Google Adwords. If you are going to advertise in the main search results, you will probably need to create your own landing page or site if you are going to promote ClickBank offers. Don't forget that you also have access to advertising on millions of sites through their Adsense programs.
Focusing on YouTube Video Marketing
In addition to targeting millions of search engines users, imagine how many people are using video and YouTube to find answers to their tablet related questions. Just doing a quick search on YouTube resulted in a ton of relevant videos that you could start having your own ads placed on. This type of advertising can also be done through your Google/YouTube advertising account. Is there a better way to sell tablet training to someone who is already looking for tablet training videos?
Driving Leads Through Social Networks
Another resource that you should explore is Facebook Ads. Since Facebook allows you to target your ads to a specific niche and demographic audience, you can make sure that your ads are being seen by people who have already "liked" "Apple iPad" or any related topics. Your ads would then be seen on the right side of the page and you can pay on a per click or impression basis.
There you have it, three effective ways for you to start promoting ClickBank products through pay per click marketing. Don't feel like you are limited to just tablet related advertising and offers. Be sure to take the time to find an offer that may convert well, then build the right type of advertising and ad copy around the product while also reaching the right market.