One of the best ways to start losing money with your ad campaigns is to not focus on converting your audience and making sure everyone is viewing your landing pages in the same way. Have you ever taken the time to see how your web site or landing pages might look if you were browsing from another country? It's a question that is occasionally brought up, but many people are still clueless on how to do this or what can be done to fix it. It doesn't matter if you are focusing your efforts on pay per click advertising or media buying, how others see your web site and knowing what competitors are in your target markets outside of the US is key to being the best in your niche market.
Fortunately for times like these there are useful tools that can give marketers an edge to see what their content looks like around the world. The tool we are referring to is called GeoEdge, which caters to publisher, media buyers and advertisers who want to keep an eye on their display advertising.
How GeoEdge Helps Online Marketers?
Have you ever visit a web site and wanted to know what it looks like to other people viewing it from another country? It probably isn't just the text language on the site that is different, but also all of the advertising as well. If you are buying any direct advertising on web sites and only focusing on US traffic, then what ads are appearing when someone from another country visits the site?
Now, it's possible to capture and analyze any ad displayed on any website, everywhere in world. For the first time ever, Publishers have a systematic tool to enforce their compliance rules in real-time in any country, Ad Networks and Media Buyers can analyze and identify international media opportunities and advertisements.
All of these questions and more can be answered through the geo tracking technology that is offered by GeoEdge. Through the use of their in browser tool bar, it's extremely easy for you to visit any web site, then pull down a different country in the toolbar menu, then see exactly how the web site would appear as if you were in another country.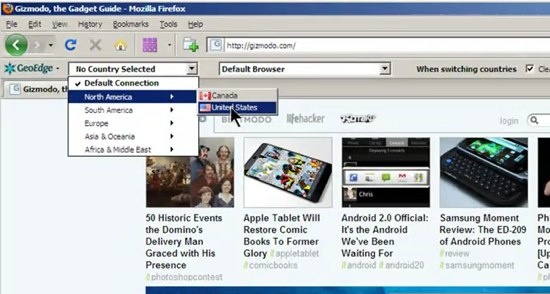 How GeoEdge Gives Advertisers an Upper Hand
Whether you are a publisher, media buyer or advertiser, GeoEdge has the tools and tracking solution to allow you to do your job better. Viewing web sites as people see them in other countries is just the beginning. GeoEdge also allows you to keep an eye on your direct competition and keeps you updated when new campaigns start. Log in to your members area and plug in who your direct competitors are and GeoEdge will do the rest for you. When your competitors go live with a new campaign in a new country, you will be notified so you can expand the reach of your ad campaigns as well.
Let's mention a few other ways GeoEdge gives publishers, advertisers and media buyers an upper hand.
Have you ever wanted to see what banners and ads are running on your own sites outside of the US? Now you can.
Test and confirm that your ad campaigns and banners are running properly on sites outside of the country.
Keep an eye on your competition and see what banners are being served on top web sites in other countries.
GeoEdge Proxy Toolbar in Action
As always, one of the best ways to experience how something works is to see a visual example or to actually try the full software yourself. You can view a short video below that walks you through the process of how you can visit web sites and quickly change the view based on geographic location by using the easy to use GeoEdge toolbar.
In addition to the quick video intro above, it's also important to note that GeoEdge is currently offering a free trial at their web site for anyone interested in SEO & SEM research. The free trial allows you to search web sites from 8 different geographic locations and the toolbar is available in both FireFox and Chrome. If you would like to access web sites from all of the different countries GeoEdge has to offer, you can upgrade your account at any time. Price plans start at $59 a month and go up to $169 for their most advanced option.