Another month goes by so here is another article to round-up the best articles on pay per click advertising from PPC.org. February 2015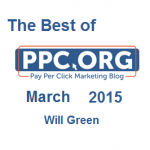 had a great selection of articles ranging from how PPC can cost you money to SEO vs PPC to the ways in which an advertiser can improve the URL section of a PPC text advert. In this article, not only is there a great source of articles from the 'Analyse A Real Campaign' series, there are also new articles from a mini-series that is featured just in March.
3 Terrible Mistakes Advertisers Make In PPC
The thing about pay per click advertising is that you can have the most amazing and well-optimised campaign out there. However, if you are doing any of the mistakes outlined in this article, it will literally be all for nothing. Here are three mistakes no advertiser of PPC (or any type of advertising platform, for that matter) should ever do and if they are doing it, stop as soon as possible.
Analyse A Real PPC Campaign Series
Like with most months, there is a wide range of real PPC campaigns analysed:
Sanex – It was interesting to see the approach Sanex took to PPC, who had to make sure they portrayed themselves as a clean and refreshing brand for deodorants.
The Protein Works – Considering that every other advert appearing was from Google Shopping, The Protein Works had effectively used PPC advertising to attract web users to their well designed landing page.
BMW – Before reading through this article, you should ask yourself what, as an advertiser, should the landing page be? As a car company, BMW's choice of landing page made clear what their objectives was in PPC.
Optimising PPC For 'The Browsers', 'The Shoppers' and 'The Buyers'
In this mini series, I highlight the fact that no matter what target audience you are aiming at with your pay per click campaign, your market can always be categorised into one of three types of web users:
The browsers – These are people that are unsure what they want. Therefore, they are using the internet to look around at different markets and possibly different products/services within markets too. For example, a web user looking at buying a car.
The shoppers – After identifying the market the web user wants to buy something in, they have narrowed down their search to a segment of the market. For example, the web user, after looking at cars, is now shopping around buying a sports car.
The buyers – These type of web users no the exact product/service they want, so will be looking to buy it as cheap as possible. For example, after wanting a sports car, the web user wants to find the cheapest Ferrari 455.
This is a must read mini series because every type of web user will be one of the above. For this reason, you can see how they will act on the internet and how you should use PPC to approach them.
There's the top seven articles I believe I created in March 2015 that will benefit you the most. I hope this has proved useful to you like it has for so many other people.